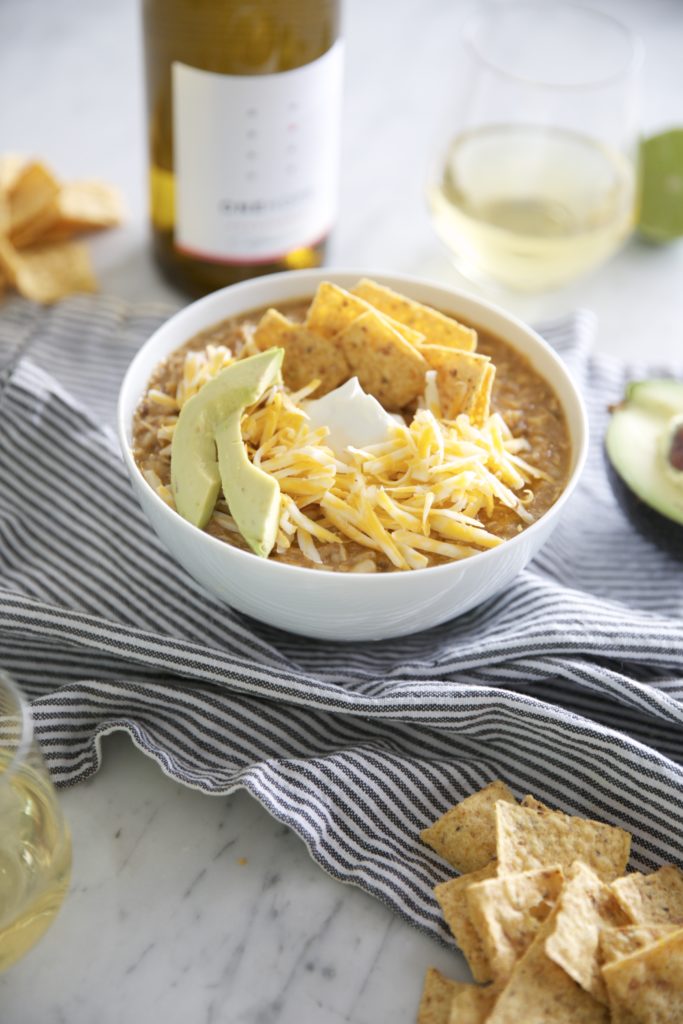 10/2015 UPDATE!  Hi there!  Meg here!  This recipe has been without-a-doubt my most popular post to date.  I'm so happy you all love it and come back to it time and time again!  That being said, I have a ton of yummy fall recipes that are dying to be tried including Pumpkin Doughnuts, Butternut Squash Soup, and a delicious fall flatbread. Check more of them out here. I'd love to hear what you think!  If you're just here for the best chicken chili ever, carry on and check it out below.  Cheers!
Have you ever had one of those weeks where life takes off running and you spend the majority of your time just trying to catch up?  The vision of a little girl chasing after her older sister and friends down the block keeps coming to mind for some reason and last week, that was totally me – life's little sister.  That being said, I've been a very bad blogger, but I'm anxious to catch up on everything I've missed and share a few things I've been dying to post about.
In the midst of all of the mayhem the temperatures cooled off and southern California finally started to feel like fall last Tuesday.  Absolutely craving my dad's White Chicken Chili, I pulled out my Crock Pot and decided to give it a shot for the first time on my own and I'm thrilled that it turned out just perfectly.  I even received a, "Babe, we really need to start using this Crock Pot more often," ovation from the boyfriend who easily downed multiple servings.  My dad's recipe is definitely the best White Chicken Chili I've ever tasted so I'm finally sharing it with the world… lucky you!  Give it a try and let me know what you think 🙂
Ingredients
Chili:
1 1/2  lbs uncooked chicken breast (can be frozen) cut into 1-2″ chunks
2 – 15 oz cans of white beans (drained)
1 – 15 oz can of white corn (drained)
1 onion chopped (sweet/Vidalia)
1 clove garlic finely chopped (I love garlic so I used 2)
1 package taco seasoning
1 – 7 oz can of chopped green chilies
1 can cream of chicken soup
1 – 14 oz can of chicken broth
Toppings:
1/2 cup sour cream (I used low fat)
2 tbls lime juice
Finely chopped cilantro
Fresh shredded cheese (I used Colby-Jack)
Corn tortilla chips (the authentic yellow kind)
Directions
Place cut up chicken in the bottom of the Crock Pot.  Add beans, corn and onion.  Mix the next five ingredients and pour over the top.  Cover and cook on low in the Crock Pot for 8-10 hours.  (I was running low on time so I cooked mine on low for about 4 1/2 hours and then raised it to high for the last two hours).
Before serving use a potato masher to break up the chicken.  (Make sure you do this very quickly with pressure and alternating directions… the consistency should change from brothy with chunks of meat and beans to a very thick and even consistency.  If it is still brothy, keep mashing).
Add shredded cheese, a dollop of sour cream, a splash of lime juice, cilantro and chips before serving.  YUM!
* Yield: 6-8
**To complete our autumn meal, I made a fresh garden salad and hot apple cider.  For dessert, we enjoyed our first pumpkin pie of the season.  Mmmm 🙂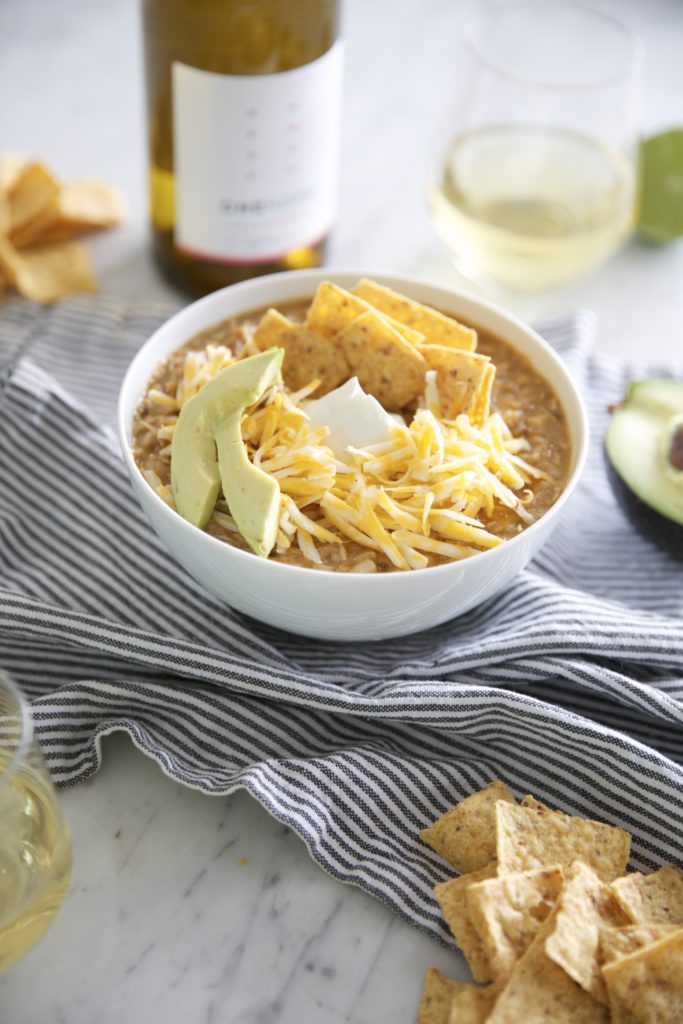 PS:  I finally took some new photos of this old favorite.  I can't believe how far things have come since my little old point-and-shoot camera from college 😉  Cheers!