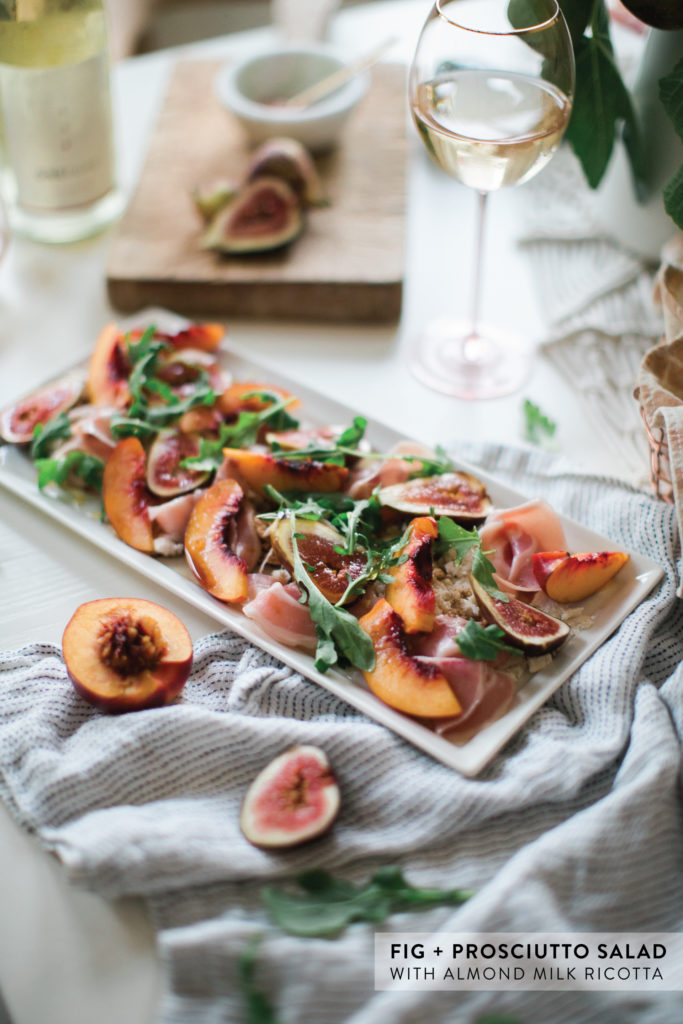 Currently in Napa, the mornings are crisp, the vines are changing color, and harvest is in full force. It's clear that fall is just around the corner (tomorrow in fact) and that summer days are coming to a close. I always get a burst of energy when the seasons start to change and I feel it in the fall more than any other time of the year. A new wave of productivity usually takes over for me and I'm inspired to cozy up and try new recipes with a different influx of produce at the market and in the garden. Just as sweet summer stone fruit is winding down for the year, figs reach their ideal ripeness between the end of August and early September in Northern California. Using nectarines and brown turkey figs as our jumping-off point for a late summer salad, I completed the dish with almond milk ricotta, arugula, a simple vinaigrette and Viognier to pair.
I asked our Director of Wine at ONEHOPE, Mari Coyle what wine she would pair with this and she said, without a doubt, Viognier. I was delighted, as Viognier has become one of my favorite varietals since Jake introduced it to me six or seven years ago. I asked Mari for some background on why she selected this wine and she said, "the nectarine brings out the stone fruit flavors in the Viognier, while the figs compliment the spicy ginger and honey notes in the wine. Rhone whites are often mineral-like in flavor with viscosity like honey. This minerality seeks salt, found in the Prosciutto. Arugula plays off the spicy notes again and a little Ricotta sets the stage for the honey dressing which oozes to complete the perfect Viognier pairing."
Wham bam. Sounded fabulous. And it was. Enjoy!
FIG & RICOTTA SALAD
Yield: 1 serving
Wine Pairing: Viognier
INGREDIENTS
4 tbs. Kite Hill Almond Milk Ricotta
1-2 brown turkey figs, sliced
1 nectarine, sliced
3 oz. prosciutto, very thinly sliced
1/4 cup arugula
Dressing
2 tbs. olive oil
2 tbs. red wine vinegar
1 tbs. honey
1 clove garlic, minced
salt & pepper to taste
DIRECTIONS
Using the back of a spoon, spread ricotta irregularly on a plate or platter.
Form prosciutto into small bunches (one slice of prosciutto per bunch) and stagger the bunches along the outside of your plate.
Fill in negative space with sliced figs and nectarine.
Top with arugula and drizzle dressing over top.
Serve with ONEHOPE Viognier.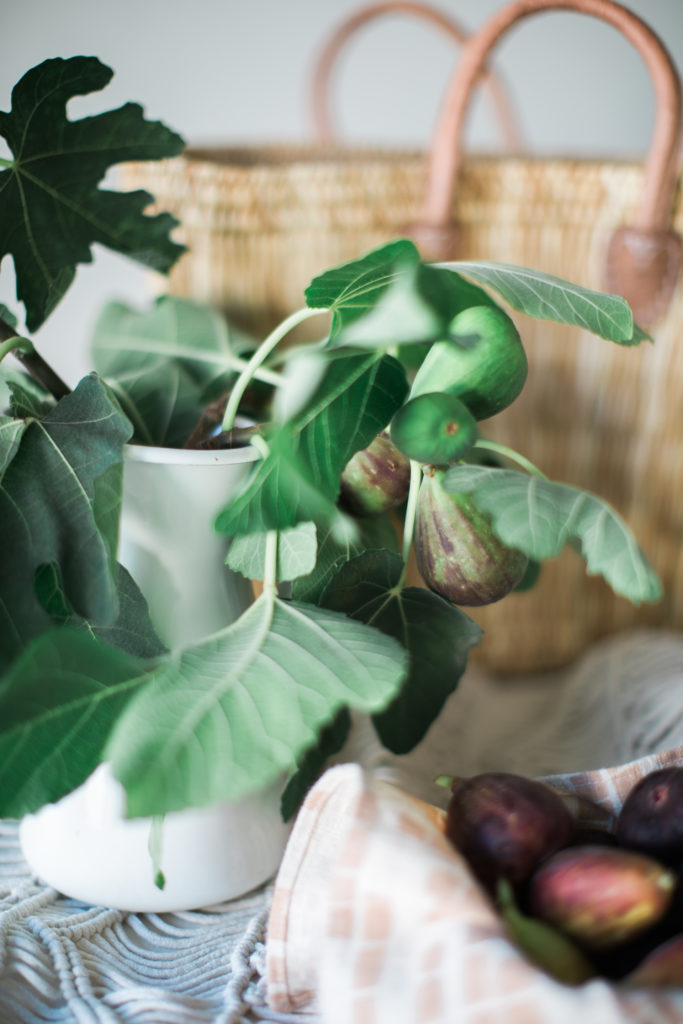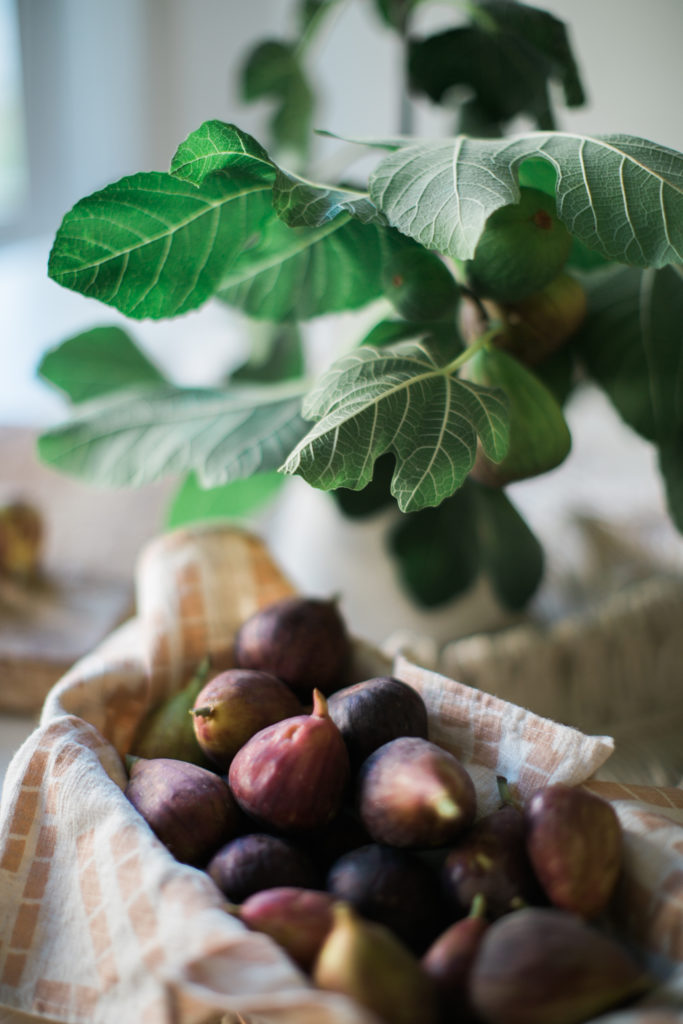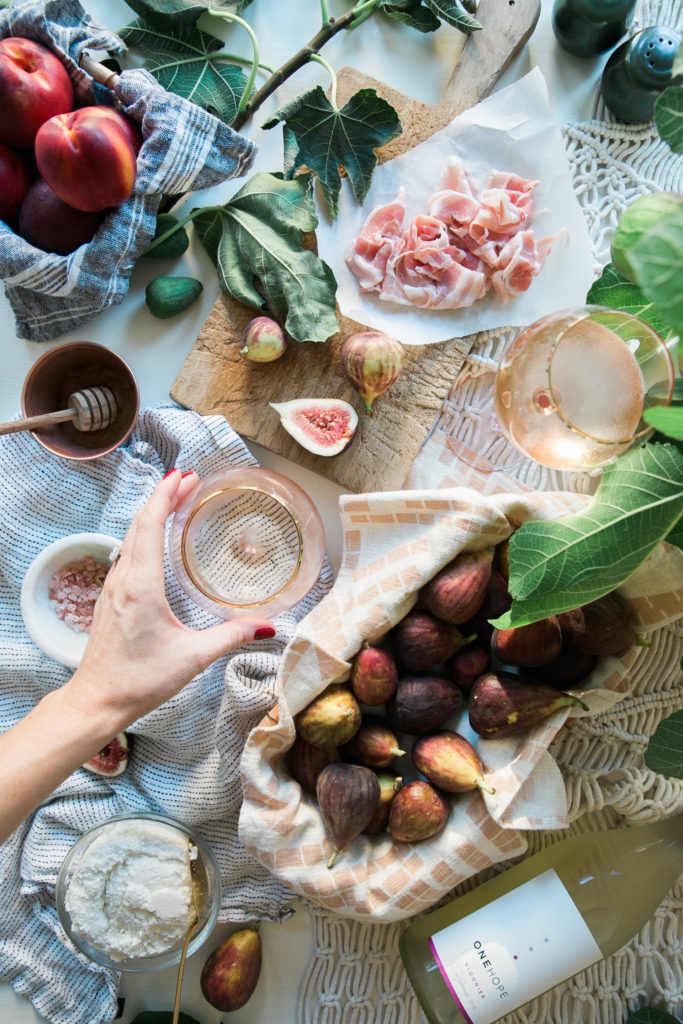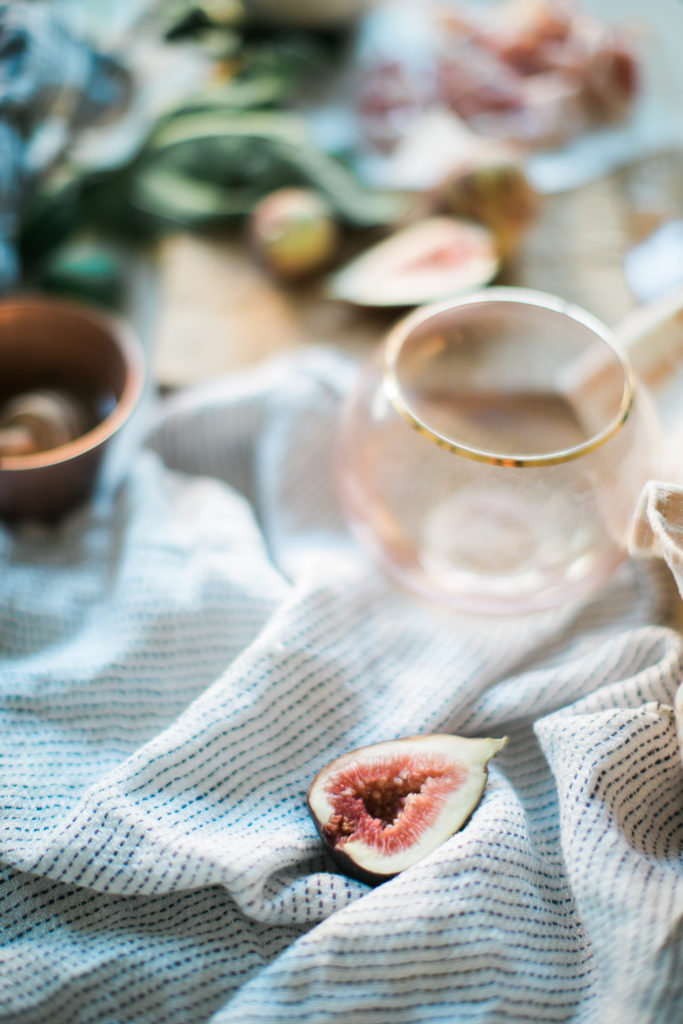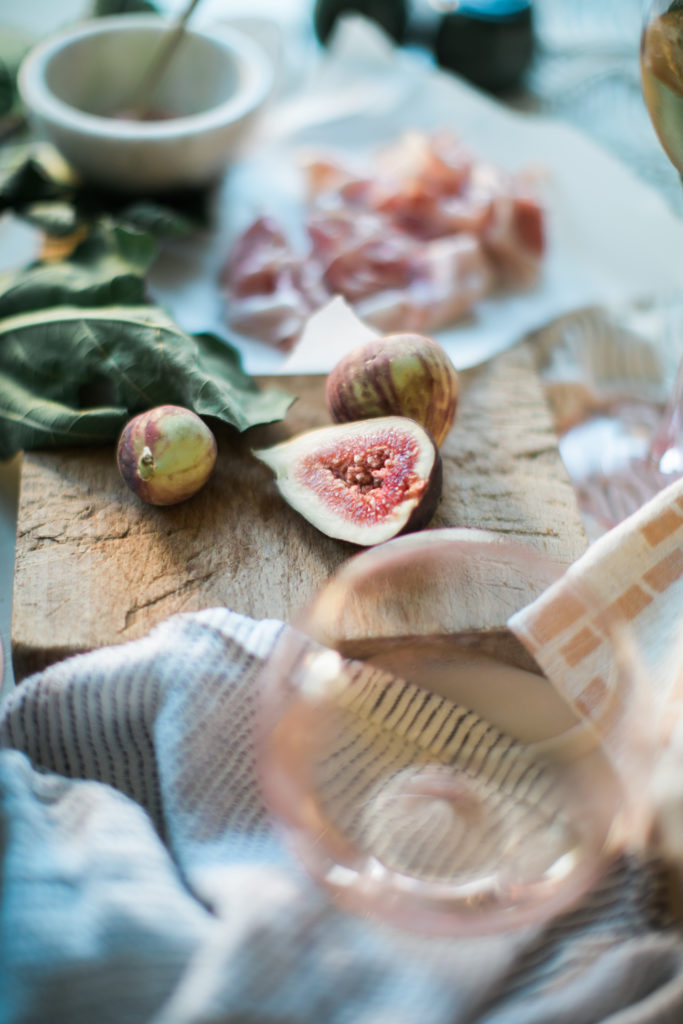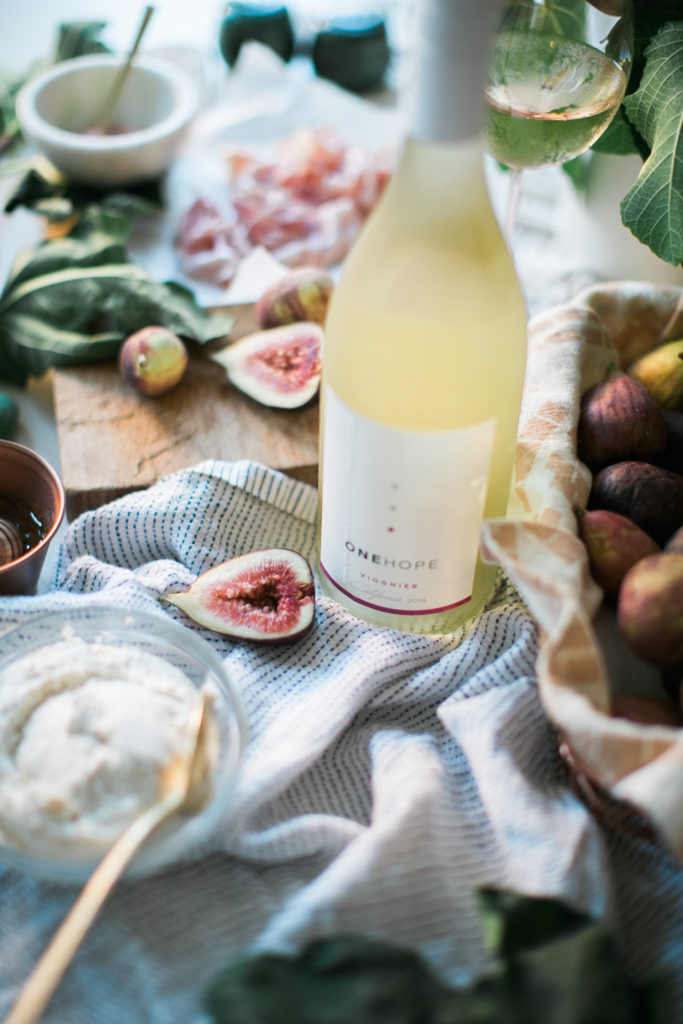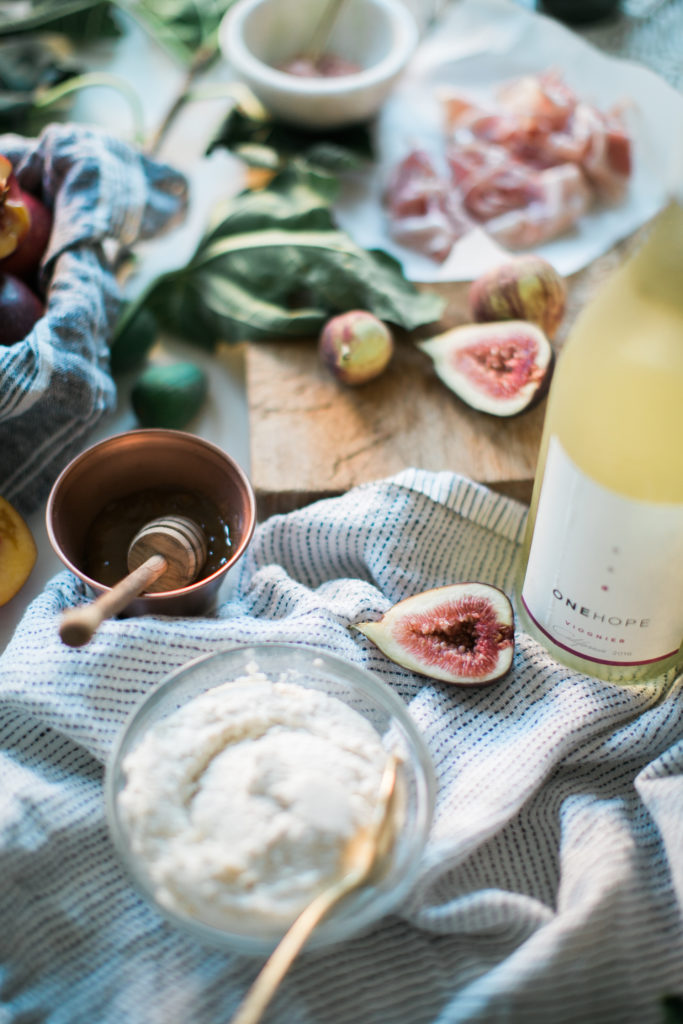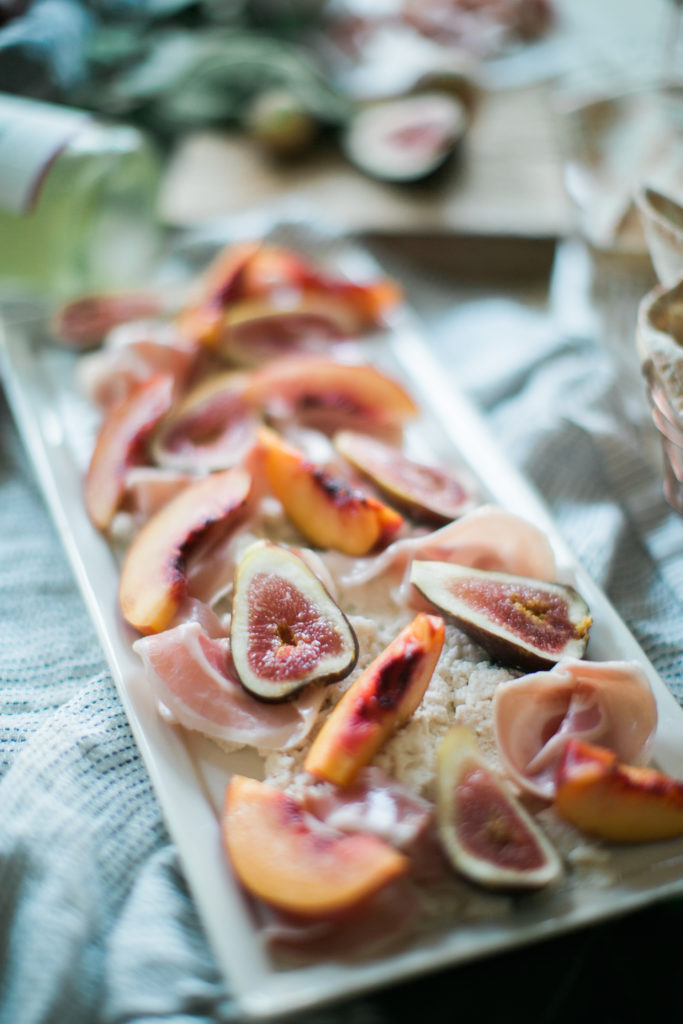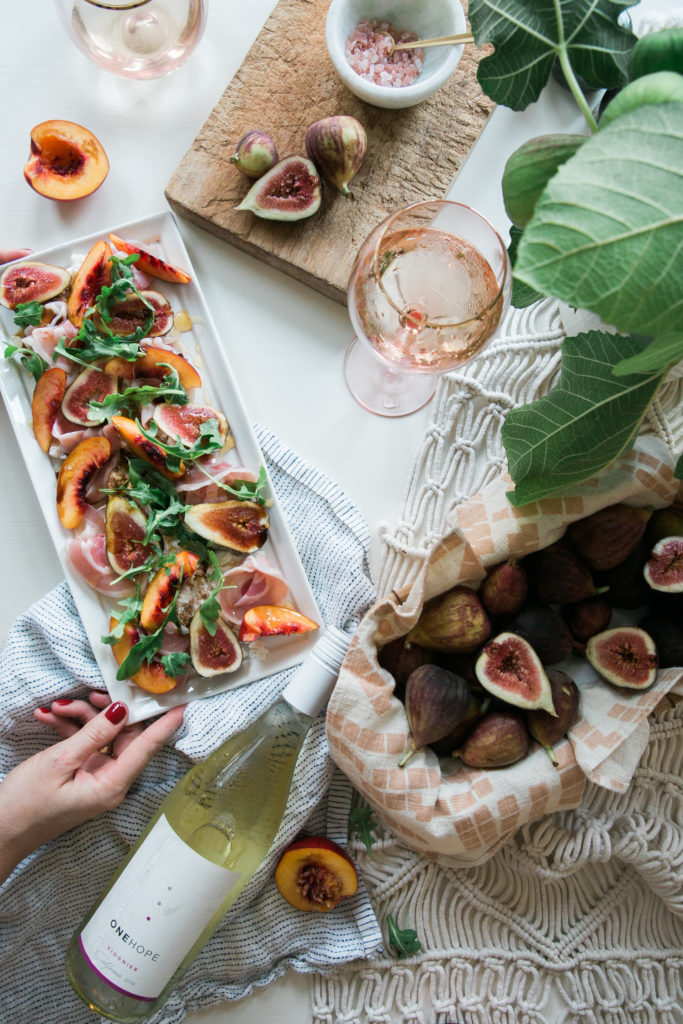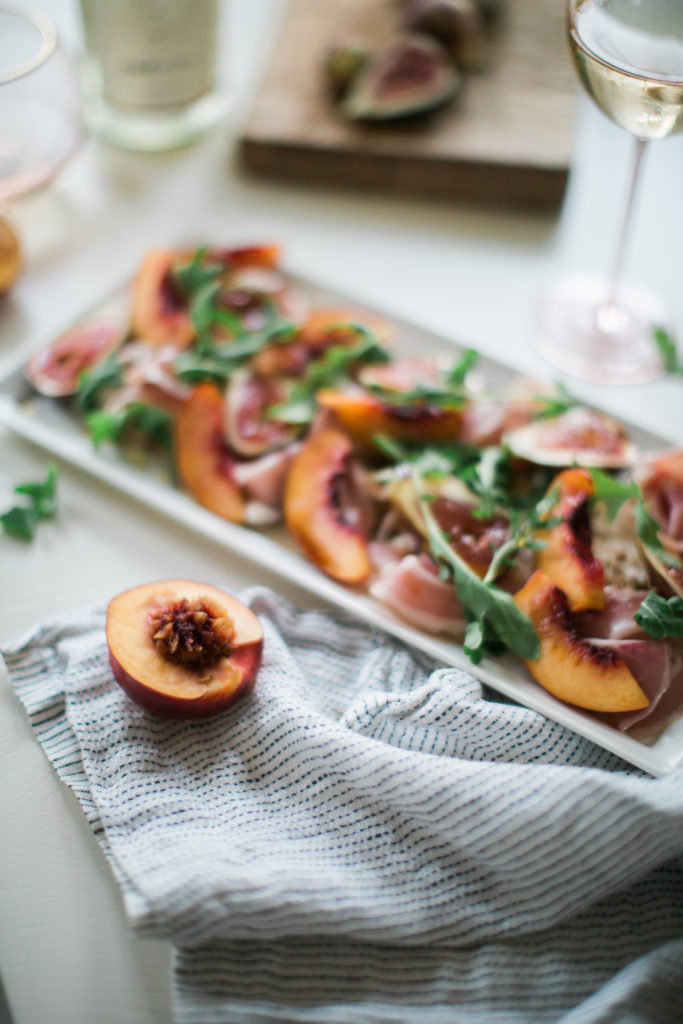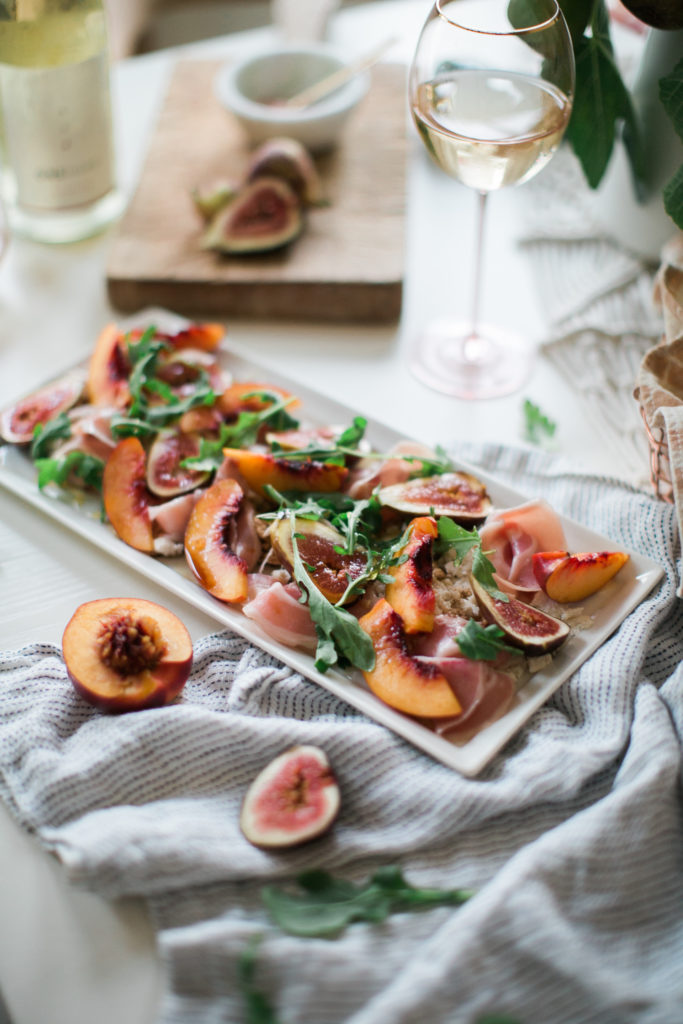 PS: Nervous about almond milk cheese? I was too. Here's a little (actually kind of long) back story on my relationship with nut milk cheeses…
I haven't talked about it much over here, but I made a complete 180 in terms of my diet and lifestyle this year. With major cleanups to my diet and a new found love for pilates, I've tried to reverse years of careless eating and have seen incredible changes to both my health, both physically and mentally. My goal in January was to lose 30 lbs before I turned 30 (April! A bit of an aggressive goal), but when I found pilates and dropped inches while building more muscle mass than I've had since college, it became less about the number and more about how amazing I was feeling. I made it down to 22 lbs lost by my 30th and I'm hovering at 25-27 lbs lost now, knowing that one day I'll drop those last 5 or so. For now I'm happier and feeling better than ever.
A big part of my diet change was cutting out dairy almost entirely. I've mentioned this before, but having grown up in the midwest, dairy, particularly cheese, was a huge part of my diet growing up. It was unfathomable to eat eggs, a salad, a sandwich, chili, literally almost anything without cheese. I LOVE cheese. After moving to California and getting into the wine industry where cheese is one of the most prominent pairings for wine, my love for cheese only grew with the discovery of burrata, Humboldt Fog, Truffle Tremor, triple cream brie… it was endless.The thought of a nut milk based cheese irked me and I refused to give them a try until I scrolled past a picture on Instagram. The shot was of a fully loaded sandwich with a delicious combination of sprouted bread, turkey, avocado, jalapeno sauerkraut, and Kite Hill almond milk cream cheese. WHAT?! I hopped on to Kite Hill's site to see where they were sold and were conveniently at my local Whole Foods. I picked up a package on my next visit and gave it a try. It was love.
When I started seeing figs in the market, I picked some up and started scouring the internet for some new fig recipes to try. A frequent combination that intrigued me was ricotta with sliced figs and honey. I knew that Kite Hill had an almond milk ricotta that would be perfect for this dish and it truly was. I can't wait to explore some more recipes with almond milk cheese this fall. Cheers!