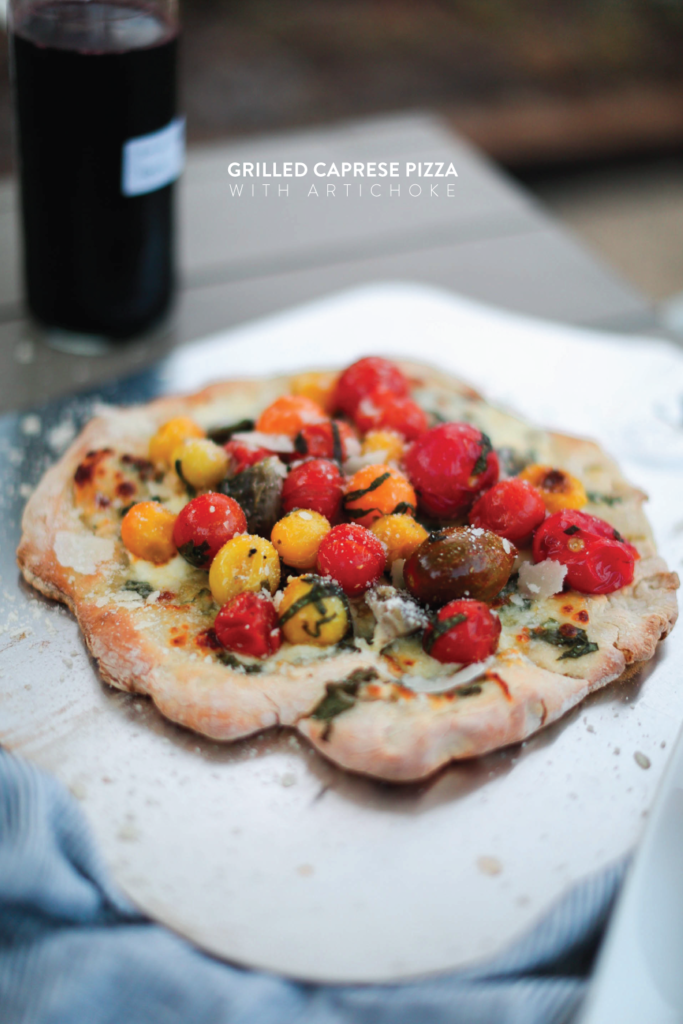 Without a doubt, the time seems to keep passing by faster and faster each year.  I've arguably never felt so overwhelmed with work projects and with wedding season in full force, our travel game is real!  I travel a decent amount for work and Jake travels about 4 times what I do, so with regular work travel combined with weddings (averaging at 6-12/year for the past few years), our summers seem to fly by in a blink.  One thing I've really tried to focus on this year is to not wait for the weekend to partake in traditionally summer "weekend things" in an effort to squeeze as much of my favorite season out of this year as possible.  Since to me there is almost nothing that feels more summery than barbecuing and eating dinner in our back yard, I've made it a priority for us to cook together/grill at least twice per week, even when it might be easier to heat up some leftovers and keep things easy.
I've been wanting to try grilled pizza for a while now and when one of our "weeds" in our back yard from the previous owner turned out to be an artichoke plant, I was feeling even more inspired than ever to fire up the grill.  I purchased this pizza stone and pizza peel, picked up a few other ingredients from the store and we were good to go.  I didn't really put a ton of thought or time into researching a recipe for this (other than how to grill artichokes and I went by this aioli recipe) and instead just tried to keep it simple with things I knew would pair well together. This ended up being one of my favorite meals we've made together and we'll definitely be making it again this week – I can't wait!
PS: This recipe is all about timing so pour yourself a glass of wine and prep in advance if possible.
GRILLED CAPRESE PIZZA WITH ARTICHOKE
Prep: 15 minutes
Active: 45 minutes
Yield: 1 pizza (2 servings)
Wine Pairing: Napa Valley Red Blend or Edna Valley Pinot Noir
INGREDIENTS
4 medium/large artichokes
2 cups baby heirloom tomatoes
1 small bunch basil, chopped (15-20 basil leaves)
1lb. fresh pizza dough (I use Trader Joe's fresh dough)
2 tbs. cornmeal
2 tbs. flour
8 oz. fresh burrata
2 cloves garlic, crushed
Salt & pepper to taste
Olive oil
Freshly shaved parmesan
AIOLI INGREDIENTS
2 garlic cloves
1 large egg yolk
2 tsp. fresh lemon juice
1/2 tsp. Dijon mustard
1/4 cup extra-virgin olive oil
3 tbs. vegetable oil
DIRECTIONS
Fill a pot with 1-2″ of water and bring it to a boil while prepping your artichokes.
Prep your artichoke by cutting the sharp tips off the artichoke petals. Then trim the top of the artichoke (cut off about 3/4″-1″) and remove the smaller petals by the stem. If your artichoke has a long stem, trim it down to an inch or less.
Reduce water to a simmer, place artichokes in a steam basket and cover
Cook for 20-40 minutes until the outer petals easily pull off.
While your artichokes are steaming, knead and roll your pizza dough. Add flour as necessary to keep the dough from sticking to your hands and surface.  Stretch your dough to desired size and shape (1lb. of dough dough should create a 10-12″ circle). Sprinkle pizza stone with cornmeal to keep your dough from sticking to the stone. Once dough is in place, drizzle with olive oil, sprinkle with 1/2 of your chopped basil leaves, add all of the burrata and finish with a dash of salt and pepper.
Fire barbecue to medium flame and place pizza stone on grill.
In a medium bowl, combine tomatoes, garlic, the remaining basil, salt, pepper and olive oil. Stir to evenly coat tomatoes and transfer to a grill basket or foil and place on grill.
Remove artichokes from steam basket and cut in half length wise. Brush with olive oil, sprinkle with salt and place on the top rack of your grill.
Prep aioli (directions below) while monitoring grill.
Allow your tomatoes to blister and artichokes to char slightly before removing. Scoop out the heart of 2-3 artichokes.
Once dough has reached your desired texture, remove from grill and top with artichoke hearts and tomatoes. Garnish with fresh basil and shaved parmesan. Plate remaining artichokes with aioli and serve immediately.
AIOLI DIRECTIONS
Mince and mash garlic to a paste with a pinch of salt using a large heavy knife. Whisk together yolk, lemon juice, and mustard in a bowl.
Combine oils and add, a few drops at a time, to yolk mixture, whisking constantly, until all oil is incorporated and mixture is emulsified. (If mixture separates, stop adding oil and continue whisking until mixture comes together, then resume adding oil.)
Whisk in garlic paste and season with salt and pepper. If aïoli is too thick, whisk in 1 or 2 drops of water. Chill, covered, until ready to use.