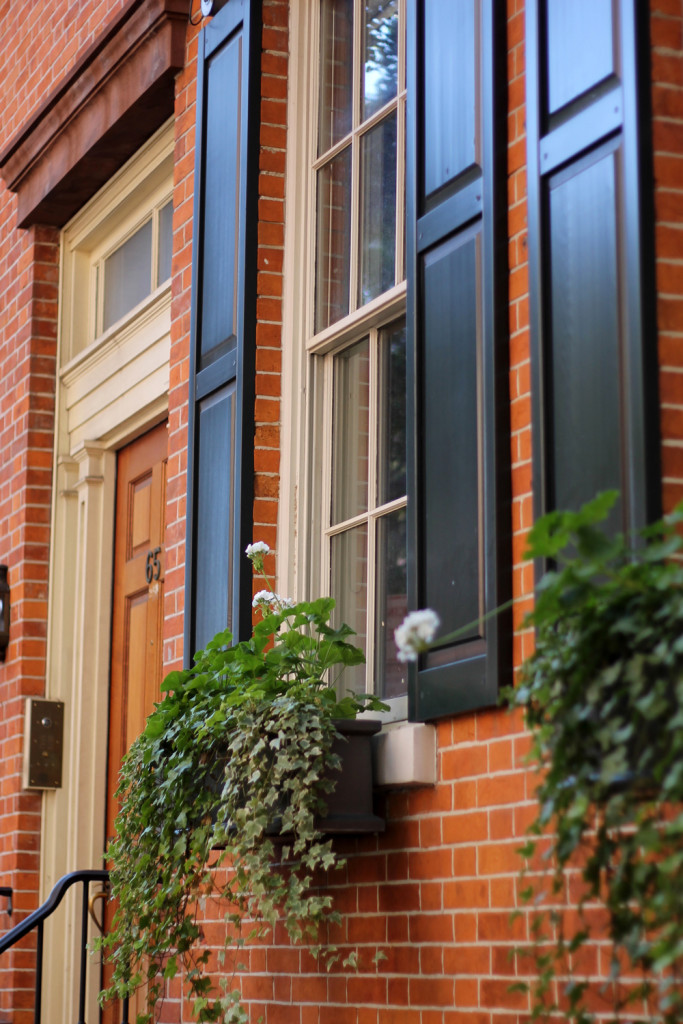 New York is one of my favorite cities in the world so when one of our closest friends decided to get married there, we were thrilled to be making a trip back.  This is by no means a full city guide as we only had a few days to explore, but here were a few of my favorite places on this trip:
E A T
The Spotted Pig:  It's honestly tough to have a bad meal in New York because there are so many restaurants that the competition is incredibly high and some the best chefs in the world call it their home.  The foodie scene is unparalleled. The Spotted Pig was the best meals I've ever had in New York City – so much so that I went twice in a day with two different groups of people – Shhhh! Don't tell anyone!  You need to order:
The Deviled Egg – My dad makes a MEAN deviled egg, but this one was easily my second favorite ever.
Devils on Horseback – Absolutely insanely delicious dates wrapped in bacon – a wonderful balance of sweet and savory. The perfect salty, savory crunch of bacon followed by a soft, decadent date on the inside – YUM.
Sheep's Milk Ricotta Gnudi with Basil Pesto – My mouth is watering just thinking about this dish.  I'm a huge pasta person in general, but gnocchi and ravioli are my jam.  The gnudi is made up of several balls of ricotta stuffed pasta – a little smaller than a golf ball each.  Lightly covered in a delicious basil pesto, the gnudi is absolutely perfect.  I ordered this dish both times and had a really hard time sharing.
Chargrilled Burger with Roquefort Cheese & Shoestring Fries – I was lucky enough to try this burger on both trips. I can say without a doubt that this is one of the best burgers I've ever had in my life.  Perfectly seasoned and juicy with just the right amount of mild/medium blue (which I usually don't love on a burger).  The shoestring fries take this dish over the top and are absolutely addicting.
Bleecker Street Pizza:  The first time I had pizza in New York, it was at a shitty, 7-11 style joint at 4:00 in the morning and it was TERRIBLE.  The crust was flimsy, the cheese resembled that of 90's cafeteria pizza and it was honestly disgusting.  To this day, it was the only bad meal I've ever had in New York.  I swore that I was a Detroit style (square) or Chicago style (deep dish) girl at heart and that my life was totally fine without New York pizza.  Since so many people rave about it including our foodie friends and since it was 4:00 in the morning on Saturday (and I was a bit tipsy and easy to convince), I decided to give it a try again at Bleecker Street Pizza and my pizza world was flipped upside down.  The PERFECT size slices that can be folded in half (but not flimsy by any means!) with the best, unforgettable crunch. NOMS!  Absolutely mouth-watering pizza. Order:
Whatever the hell kind of pizza you like because absolutely nothing is going to suck.
Burger Joint: Hidden behind a curtain in the back of Le Parker Meridien on 56th and 6th, this place rocked our world.  We went after a 7:30 showing of Les Miserables and I'm so glad our friend made the suggestion.  While they have the best diner style burgers and shakes imaginable, there's nothing fancy about this place.  I felt like I'd been transported to a funky old diner in Detroit with mismatched decor, autographs on the wall, wood paneling and all sorts of grease and smells. So delicious.  Order:
A cheeseburger with everything on it.
Fries
Shake
D R I N K
Experimental Cocktail Club: Jake and I aren't exactly big into clubs (although I did have a clubbing spree when I first moved to LA – hay Hollywood!), but we were spending time with our friends who know all of the best places in the city, so ECC in the lower east side it was!  Slightly swanky with great decor and an incredible DJ, ECC brings in the best mixologists in the world to craft cocktails that are some of the best you'll ever have…. so good that we were there until just before closing.  Eeeek!  Order:
Burning Passion Punch – But ONLY one! An awesome combination of rum and passion fruit.  They slice open a passion fruit and set both halves on fire before delivering it to your table.  Delicious.
Brazilian Magic Punch – Yaguara Cachaca, coconut milk, almond milk, pineapple, verjus, agave, black and white peppers, Chilean peppers, cocoa beans, vanilla, rose buds – WHAT?!  Hands down the best cocktail I've had in years.  Order it.  You won't regret it.
B R E A T H
The High Line:  If you're eating and drinking as much as we were, a trip to the High Line is a must.  An elevated railroad turned beautiful park, the High Line runs from Gansevoort St. in Meatpacking to West 34th Street on the city's west side. It can get a bit crowded so go early and enjoy some pretty stunning views of Manhattan.
Battery Park City: I'd never been to southern most point of Manhattan, but it's where our friends were getting married and I couldn't wait to explore a new part of the city.  Watching the sun set over the Statue of Liberty was simply unforgettable and an experience I couldn't recommend more.
S H O P
ABC Carpet & Home: There is so much shopping in New York that it's hard to go wrong, but my favorite place there is still ABC Carpet & Home.  I went exploring with Beth on Thursday afternoon and we spent a few hours wandering around each level getting design inspiration and doing some preliminary sourcing for the Napa project.  We bought way too many cards and little gifts on the first level, but honestly could have walked away with anything in that store provided we had the $ and means to drag it back to LA.
And that's a wrap! Where are your favorite places in NY?