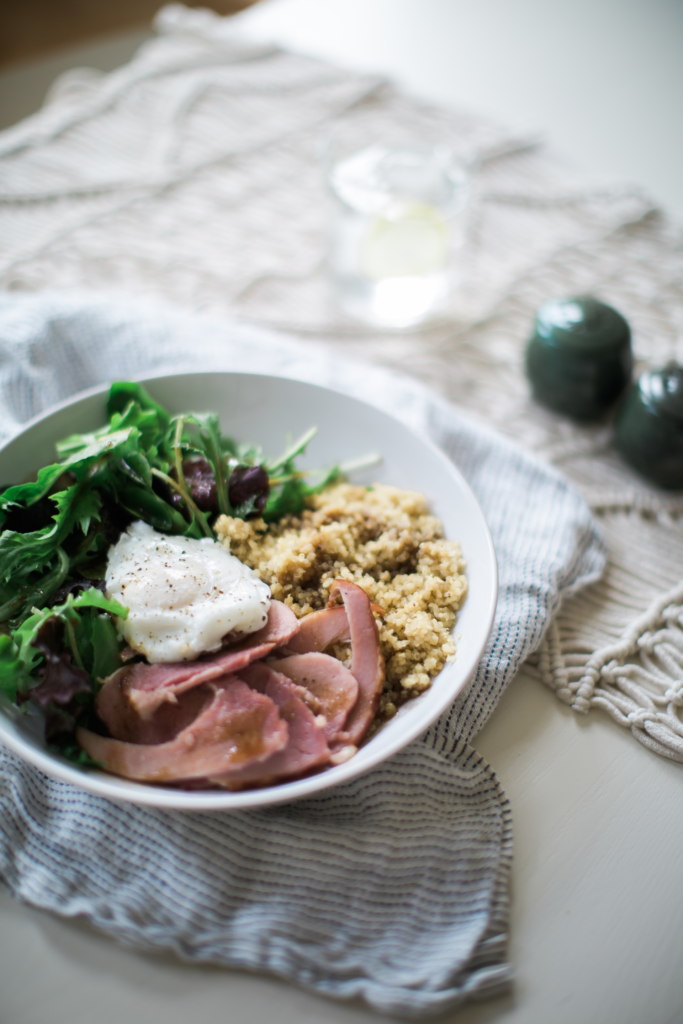 One of the greatest things about any major holiday (aside from gathering with friends and family) is the food. And one of the greatest things about the food is the leftovers. From Thanksgiving turkey and stuffing sandwiches, to ham and cheesy potatoes after Easter, leftovers always give me something to look forward to after our families have returned home and life goes back to normal post-holiday.
That being said, I've done a major overhaul on my diet and lifestyle this year and I know how easy it is to get completely derailed by a holiday. I vowed to not let that happen and I've been more successful than ever at bouncing back after work travel, birthday celebrations, etc. However, in the sake of tradition, I didn't want to completely change our family's Easter menu and I inevitably ended up with (easily a week's worth) of leftovers that I knew were going to kill my stomach if I indulged. In an effort to hang on to the holiday for just one more day, I decided to whip up an Easter "bowl" that would allow me the nostalgia while also being a lot better for me than filling up on dairy and sugar.
I wanted to keep that "honey baked" ham flavor, without the prosed cane sugar, so I made a simple dressing with a tiny bit of honey and dijon mustard to pay homage to the classic. What I love about this dish is that it's full of vitamins from the greens and healthy fat & protein from the egg. While there are a decent amount of carbohydrates in the quinoa (check your labels), it's a superfood that's packed with protein and will fill you up without spiking your blood sugar, causing an inevitable crash later. See what I did below:
Easter Bowl
INGREDIENTS
A few pieces of leftover ham (we only glazed half of our ham so I pulled these pieces from the unglazed half)
1/2 cup prepared quinoa
1-2 cups greens (I used spring mix)
1 egg
2-3 tbs dressing (recipe below)
Salt and pepper to taste
DIRECTIONS
Prepare quinoa (or reheat 1/2 cup if using leftovers).
When quinoa is within 5 minutes of being finished, fill a sauce pan 2/3 full of water and bring to a boil to poach your egg. I follow these instructions and they've never failed me.
After your water is heating, place ham in a small skillet over low heat and prep your dressing (below).
Once all components are complete, assemble your bowl, drizzle with dressing, and finish with freshly cracked pepper & a touch of salt. Enjoy!
Dressing (serves two so serve half and store remaining dressing for up to 1 week in the fridge)
INGREDIENTS
1/4 cup extra virgin olive oil
1 tbs. dijon mustard
1 tbs. balsamic vinegar
1 tsp. raw honey
DIRECTIONS
Combine all dressing ingredients and whip together with a fork or whisk until well combined and texture is consistent.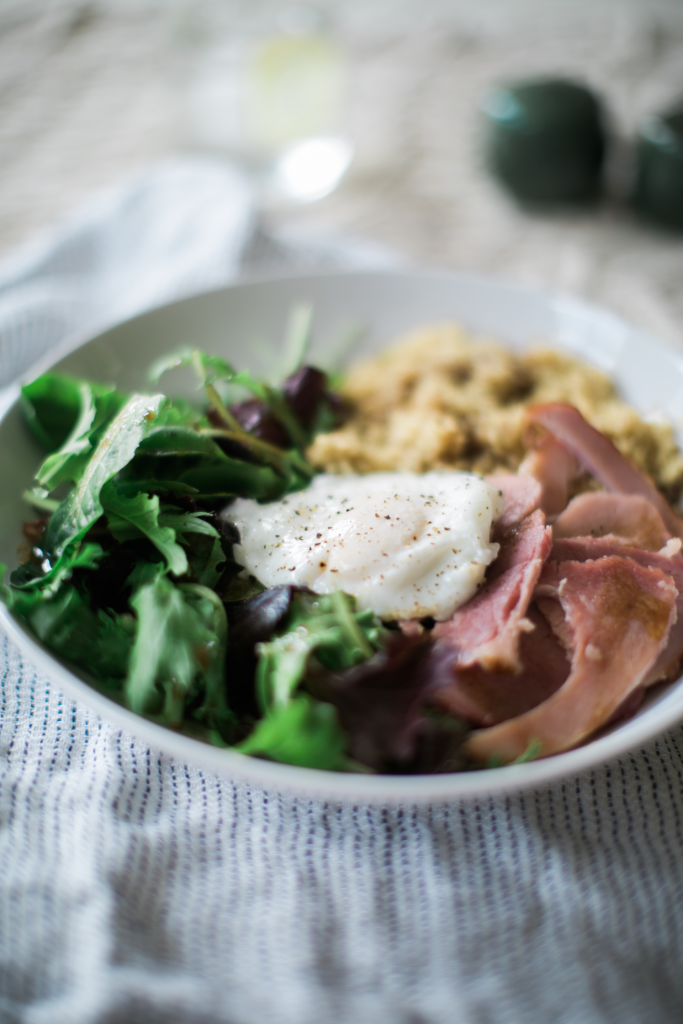 What do you think? What's your favorite way to repurpose holiday leftovers?