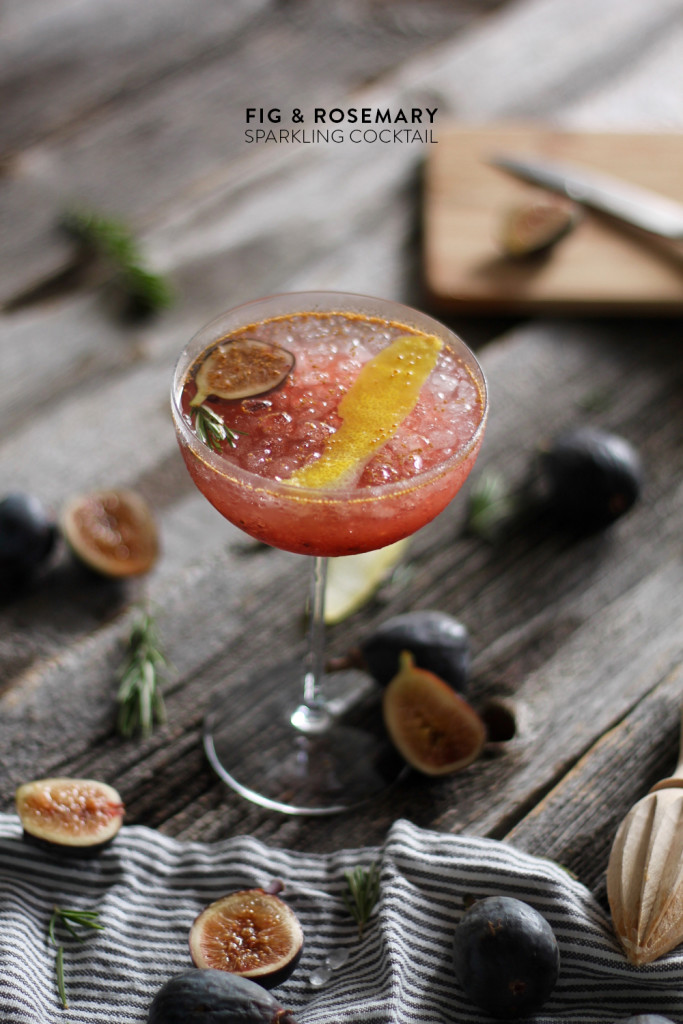 Happy First Day of Fall, guys!  Aren't you so excited?!  Jake and I flew back from New York on Monday after a whirlwind trip to celebrate the marriage of two of our close friends and I was REALLY hoping for some fall weather while there, but we were SOL.  The temps were in the mid 80's for almost the entire time, with the exception of ONE afternoon when we could feel the familiar crisp autumn air that I miss so much now that I call LA home.  Thankfully, it has cooled off at least a little and I don't feel so weird burning a Pumpkin Candle now that it isn't 100 degrees in our house 😉
Every year, I tell myself that I'm going to experiment with figs in the fall (I've never cooked with them before now!), but they're so hard to find and something else always seems to take priority. By the time I make the effort, they always seem to be out of season and impossible to track down. I've been dying to get my hands on some this year to mix into cocktails and to add a little something sweet to the fall entertaining cheese boards we've been crafting for work. Finding them proved to be difficult since figs aren't generally carried at most big-chain grocery stores, but when I finally spotted them at a downtown LA farmer's market, I grabbed all I could and headed straight for the kitchen. After a bit of research on fig cocktails, I stumbled across this one that sounded too good to pass up. I made a few proportional adjustments to accommodate our bubbly and it turned out SO deliciously perfect. I whip up a ton of cocktails for work and our team is pretty vocal at this point with what they like and don't like so I was pleasantly surprised to hear that this was one of the favorites we've ever made. Check it out below!
Timing: 1 hour total
Yield: 4 cocktails
I N G R E D I E N T S
Rosemary Simple Syrup
1 cup honey
1 cup water
3 sprigs of fresh rosemary
Cocktail
1/2 cup fig puree (2 cups fresh figs, 4 tbs. water blended in a food processor)
4 oz. chilled vodka
Juice from 2 lemons (peel for garnish)
4 oz. Rosemary Simple Syrup
ONEHOPE Sparkling Brut
Ice
D I R E C T I O N S
Combine honey, water, and fresh rosemary into a sauce pan and bring to a boil. Reduce heat to a simmer, stirring occasionally until the mixture has reduced by half. Remove from heat and allow the mixture to cool completely. We transferred to a jar and placed it in the freezer for 30 minutes.
While simple syrup is chilling, remove stems from figs and place all but two figs in a food processor. Pulse to puree until consistency resembles that of apple sauce. Set aside.
Using a citrus peeler, peel your lemons (4 ribbons – one for each cocktail). Juice both lemons and set juice aside.
Once your simple syrup has chilled completely, combine syrup, fig puree, chilled vodka, lemon juice, and ice in a cocktail shaker and shake vigorously.
Fill two glasses with ice and pour cocktail mixture into each glass. Top with ONEHOPE Sparkling Brut and garnish with lemon peel, fresh rosemary, and one half fig each. Cheers!