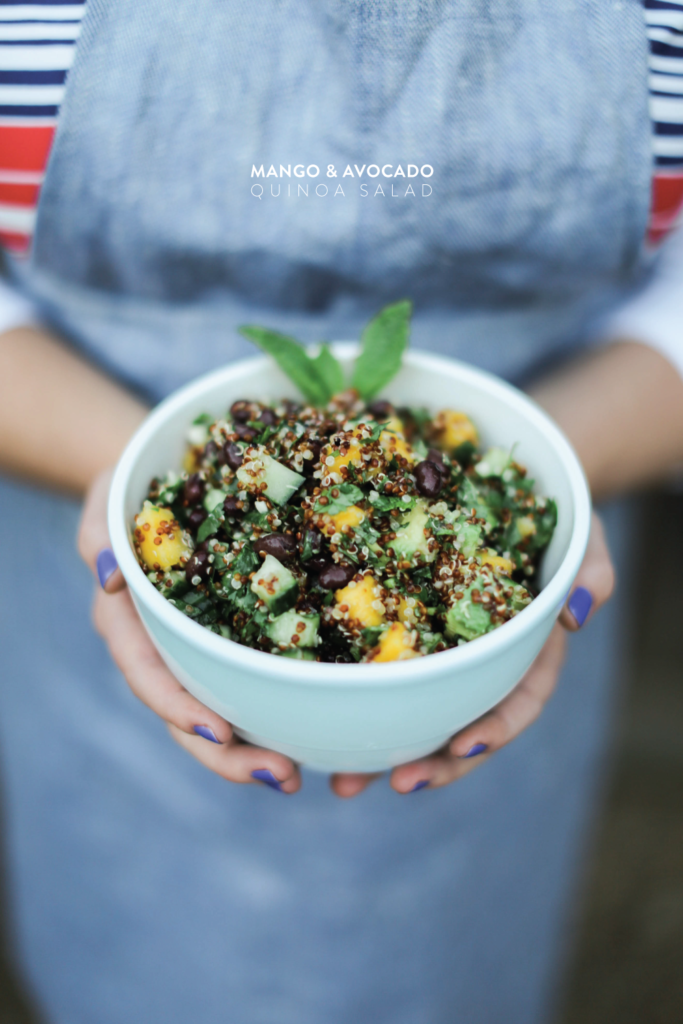 Jake's sister Michelle is one of the best cooks I know.  Having traveled to more countries than I can ever remember, she's developed a pretty impressive, worldly palate and isn't afraid to try anything.  She always knows exactly what to order at a restaurant and always knows exactly what a dish needs if it's off.  When she gave Jake a grill for his birthday, we invited the family over for our first barbecue in Napa for Mother's Day.  She offered to make a quinoa salad for a side and I LOVE quinoa so of course I was totally stoked!  The end result was even better than I could have imagined – so deliciously light and fresh yet filling enough to make it a main course any day of the week.  It was perfectly sweet, yet herbaceous and had just the right amount of acidity.  I practically begged her for the recipe and to come back over so we could shoot it together and thankfully she said yes 🙂 The best part?  Nothing about this dish is unhealthy or processed in any way.  It's also totally vegan so almost anyone can enjoy.  It just goes to show that some of the best dishes are the ones created with the simplest ingredients.
Ingredients
1 cup red quinoa
1 can black beans, rinsed and drained
2 fresh mangos, cubed
1 avocado, cubed
1 cucumber, seeded and diced
½ cup mint, chopped
½ cup fresh cilantro
⅓ cup olive oil
2 tbsp lime juice
1 clove garlic, minced
salt and pepper
Instructions
In a medium saucepan, combine quinoa with 2 cups salted water. Cover and bring to a boil and the reduce to a simmer for 15-20 minutes stirring occasionally and being careful not to burn. While quinoa is cooking, prep your other ingredients.
When your quinoa has fully absorbed the water and is light and fluffy, spread it on a cookie sheet and cool in the fridge or freezer for 10-15 minutes.
In a small bowl, whisk together the olive oil, lime juice, and garlic.
In a large bowl, combine black beans, mangos, avocado, cucumber, mint and cilantro. Once the quinoa has cooled, add it to the large bowl and top with olive oil, lime and garlic dressing. Gently toss to combine.
Suggested wine pairing: Our new Pinot Grigio has flavors of mango and would really bring out the mango in the salad.  It's a light, summery wine that would compliment the quinoa, avocado and cucumbers well.
Recipe adapted from Vegangela.