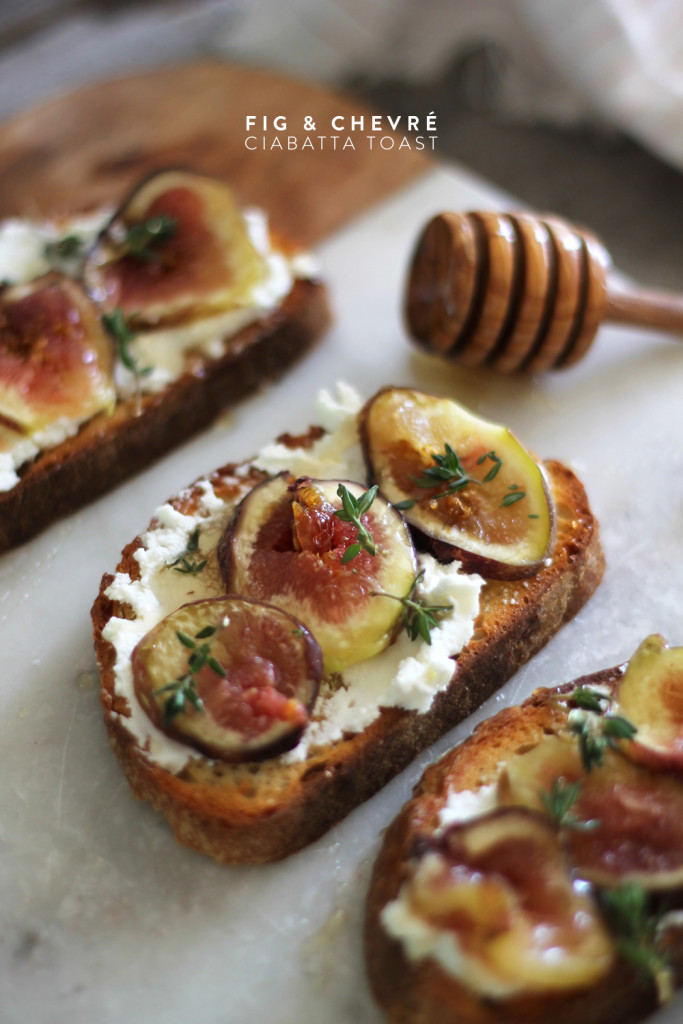 Toast is really having a moment.  I'm fairly certain that avocado toast opened the toast door and now it's everywhere in every shape, size and ingredient combination.  And honestly, what isn't there to love about toast?  Growing up, I ate toast almost every morning (peanut butter was my favorite) and I don't really know when or why I stopped, but I'm a big fan of this new toast trend and exploring new ways to enjoy it.
With a leftover loaf of ciabatta and a a handful of figs remaining from our fig frenzy at the office, I decided to try a combination of flavors that I'd been wanting to explore. This crostini was a huge hit so I decided on a toast and whipped these up in almost no time. The end result was pretty incredible.  They were easy enough to throw together in under 15 minutes, but felt a little fancy with the drizzled honey and sprinkling of thyme.  AND, with the perfect wine pairing, they were certainly something that you could eat anytime during the day or night. Toast isn't just for breakfast anymore, people!  Cheers!
Time: 15 minutes
Yield: 6 servings
I N G R E D I E N T S
6 slices of fresh ciabatta
1 tbs. butter (melted)
8 oz. chevré
3 figs (thinly sliced)
6 sprigs fresh thyme
2-3 tbs. honey
D I R E C T I O N S
Preheat oven to 350 and butter both sides of each slice of ciabatta.
Place slices on baking sheet and bake for 5-7 minutes (until bread starts to toast).  Remove from oven and carefully flip toasts.  Bake for another 3-4 minutes being careful not to let the toast burn.
Remove from oven and allow toasts to cool slightly.
While toasts are still hot, but cool enough to be handled, spread each piece with chevré and top with 3-4 slices of fig.
Garnish each toast with a few small pieces of thyme and drizzle honey over top.
Serve immediately and serve with Chardonnay (for white lovers) or Pinot Noir (for red lovers) – my recommendation is the Pinot which is known to pair wonderfully with chevré.  Cheers!