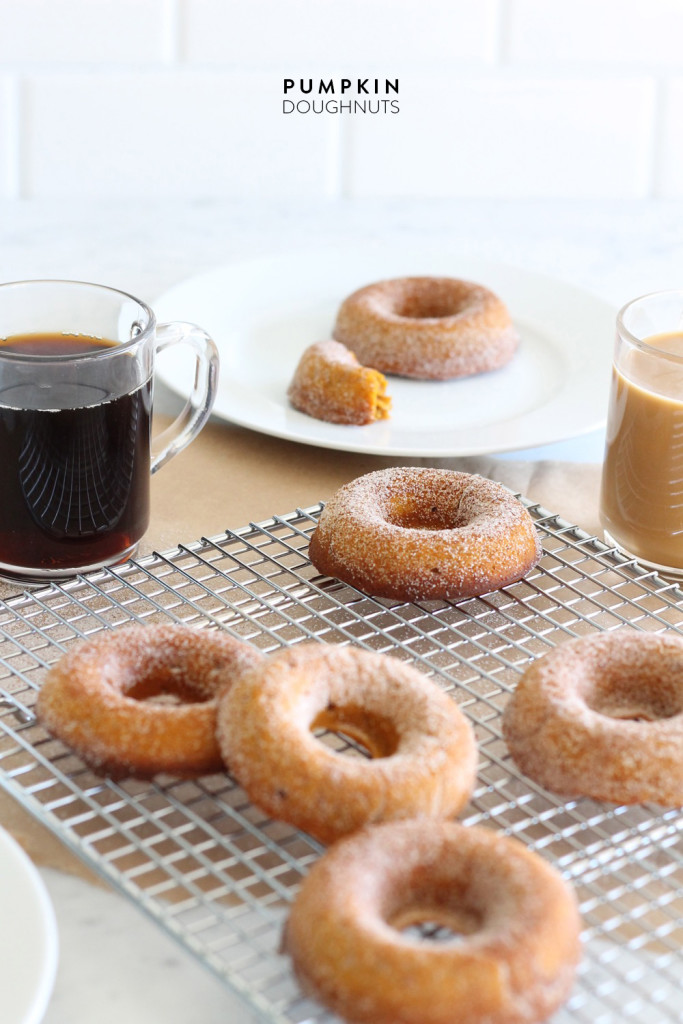 This morning is an early one! A bunch of us from work are jetting off to New York on the first flight out to celebrate the marriage of one of our co-workers and I can't wait to see her walk down the aisle! It also doesn't hurt that the wedding is in NY being that I've been dying to get back there – it's been over a year!  I was hoping for a super brisk, fall week, but the forecast is unfortunately showing 80+ every day we're there, so I'll just have to deal with my overwhelming #basic fall nostalgia and pumpkin cravings.  In yearning for all things fall, I thought I'd pass along one of my favorite recipe finds from last year – Pumpkin Doughnuts!  I can't wait to make these again when I'm back from NY.  I made a few of my own adjustments (below), but find the original recipe here.  It's almost fall, y'all!
PS: Proof that Americans Love Pumpkin Flavored Everything & An In-Depth Analysis of Pumpkin Spice's World Domination – two good reads on America's obsession with fall pumpkins.
Time: 30 minutes
Yield: 12 doughnuts
I N G R E D I E N T S
2 cups all purpose flour
2 tsp. baking powder
1 1/4 tsp. salt
1 tsp. ground cinnamon
1/4 tsp. ground nutmeg
1/4 tsp. ground ginger
3/4 cup sugar
3/4 cup packed brown sugar
1/2 cup canola oil
3 large eggs
1 1/2 cups pumpkin puree
1 tsp. vanilla extract
Coating
1/3 cup sugar
1 tsp. ground cinnamon
D I R E C T I O N S
Preheat oven to 350 degrees. Grease/butter doughnut wells and set aside. In a medium bowl, whisk together flour, baking powder, salt, cinnamon, nutmeg, and ginger. Set aside.
In a large mixing bowl, whisk together granulated sugar and brown sugar until well combined. Add your wet ingredients (oil, eggs, pumpkin puree and vanilla extract. Using a mixer, blend until mixture is well combined.
Spoon mixture into your doughnut baking pan.  Each well should be filled about 1/2 of the way. Bake for 7-10 minutes or until doughnut is firm, but not cooked all of the way through (toothpick should not come out clean).
Remove from oven and gently remove each doughnut from individual wells. Grease/butter each well again and fill wells with more batter about 1/2 of the way.  Place your partially cooked doughnuts on top of the new batter and bake for 7-10 more minutes or until toothpick comes out clean.  Because the batter is quite heavy, these doughnuts won't puff up like you're used to traditionally.  The first time I made these, I skipped adding more batter and flipping the first set of doughnuts over – my doughnuts were flat on the bottom 😉
Once doughnuts are baked all the way through, let them cool slightly and remove from the pan.  While doughnuts are cooling combine coating sugar and cinnamon in a ziplock bag. Add one doughnut at a time and shake until completely coated.  Enjoy while warm with your favorite coffee or hot apple cider. YUM!