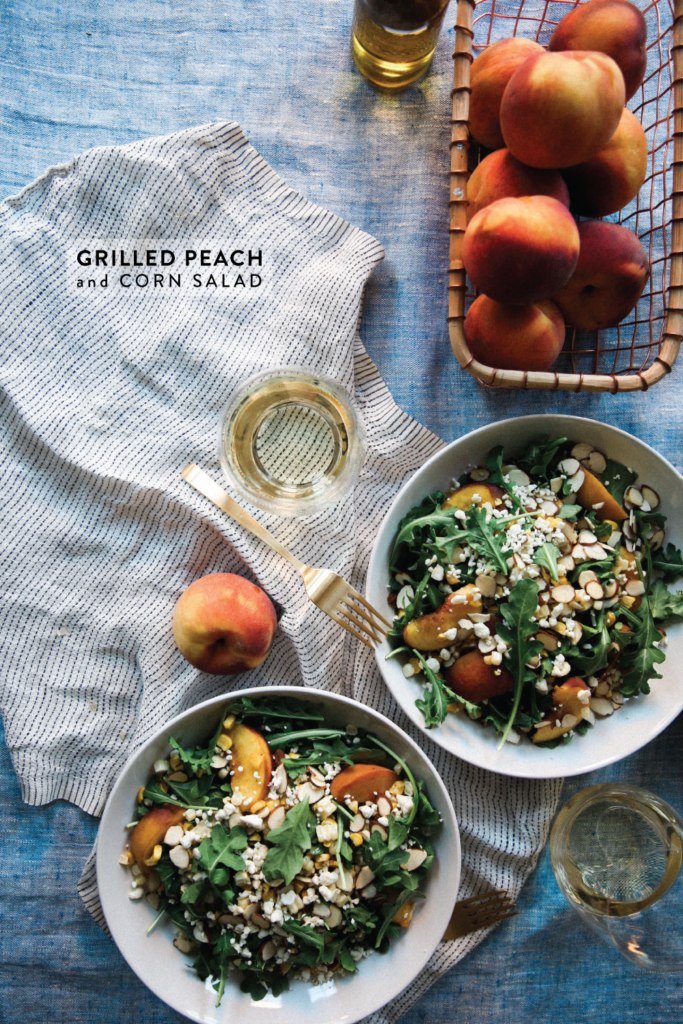 While we've had a few chilly days so far this fall in wine country, the vast majority of our weather is still 75+ and even up into the 90's.  With temps that high, heavier fall flavors and hot dishes simply haven't sounded all that enticing thus far so I've been trying to embrace easy summer recipes for as long as possible.  After a long hiatus from corn (definitely had way too much of it growing up in the midwest), Jake reintroduced it to me earlier this year when we got our new grill in May.  On a recent trip to Whole Foods, I picked up the last of the corn I could find for the season, as well as some juicy peaches that I could practically smell from an aisle away.  I did some poking around online for inspiration and found this late summer salad which sounded perfectly simple and yet packed with flavor.  Since I didn't have everything on hand, I made some tweaks along the way and it was absolutely delicious.  Enjoy!
INGREDIENTS
1/4 cup extra-virgin olive oil, plus more for drizzling
4 ears corn, shucked
4 peaches, cut into wedges
Salt and pepper, freshly ground
2 tablespoons red wine vengar
1 tablespoon Dijon mustard
1 clove garlic, minced
1/4 cup sliced almonds
1/3 cup crumbled feta
4 cups baby arugula
1/2 jalapeno pepper, halved, seeded thinly sliced *optional
Suggested Wine Pairing: ONEHOPE Riesling leads with aromas of honeysuckle flower and peach blossom on the nose. With a fruity flavor profile of white peach, mango and pear, it's the perfect compliment to the grilled peach, corn and feta in this delicious salad.
DIRECTIONS
Heat grill to medium/high heat.
Lightly drizzle some olive oil on the corn and peaches and sprinkle with salt and pepper.
Place corn on bottom rack of grill and turn periodically until grill and char marks develop (10-15 minutes).
After corn has been grilling for 5 minutes, place peaches on the top rack of grill and turn periodically until grill and char marks develop (5-8 minutes).
Remove corn and peaches from grill, allowing them cool slightly.
Whisk together the olive oil, red wine vinegar, mustard, garlic, salt, pepper and jalapeno (optional).
When the corn is cool enough to handle, cut remove kernels from cob. Add corn, sliced peaches, almonds and feta to to your bowl with the dressing and toss to coat.
Add arugula to salad bowls and top with peach and corn salad.
Serve with a chilled glass of ONEHOPE Riesling. Cheers!
Recipe adapted from here.