{Image via}
I'm currently in the middle of a big design project for work in Napa as we bring our brand north to wine country.  I can't share specifics on the project yet, but it's going to be big and beautiful and an overall amazing experience! To pay homage to the land, the history of Napa Valley and the design aesthetic of our brand, the architecture falls pretty perfectly in line with the modern farmhouse and I can't wait to see it all come to fruition.  Since I haven't practiced a ton on the interior design side since graduating, I've been doing endless research and I'm constantly on the hunt for inspiration everywhere to contribute to this project. When scouring Pinterest and Houzz for ideas, I realized that there were a few major architectural elements that were exciting me and eventually finding their way to my inspiration boards. I don't know that I'd ever consciously sought out images of steel doors and windows, yet there they were – on every. single. board.  I just couldn't get enough. There are a few main reasons for my obsession.
You're able to achieve really thin mullions and muntins with steel doors which makes them look so elegant while also allowing for more transfer of light. With wood framed doors, it simply isn't possible to achieve those lines.
They're timeless!  Some of my favorite images are at least 10 years old and the only way you'd ever be able to tell are by other finishes in the room pictured, or the pixelation of the image itself.
Steel is just such a cool, solid material that adds such depth and texture to a space. Black wood or aluminum windows can definitely come close to achieving the look of steel on a budget, but nothing compares to that patina, texture and weight of a steel door.  I'm all about texture in a space and this is a wonderful way to achieve that.
Here are a few more favorites!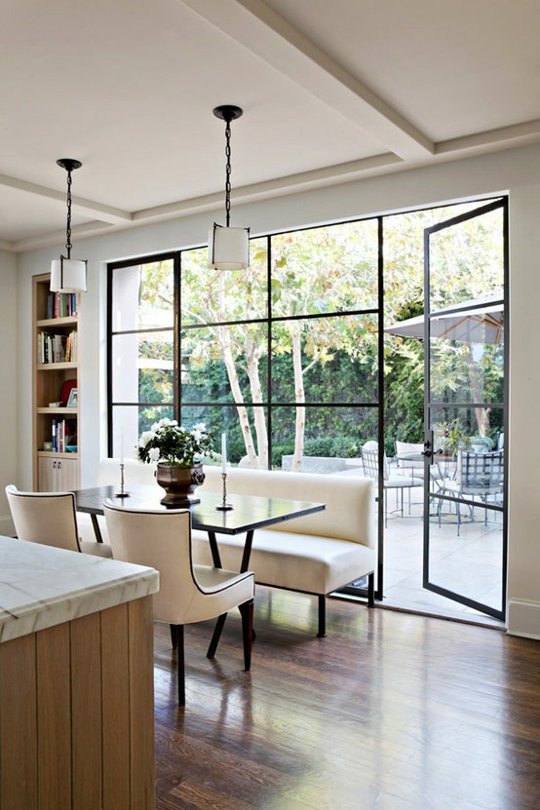 {Clean lines! Notice the black piping on the chairs that accentuates their curved, classic shape while playing off the muntins of the doors and windows. Image via}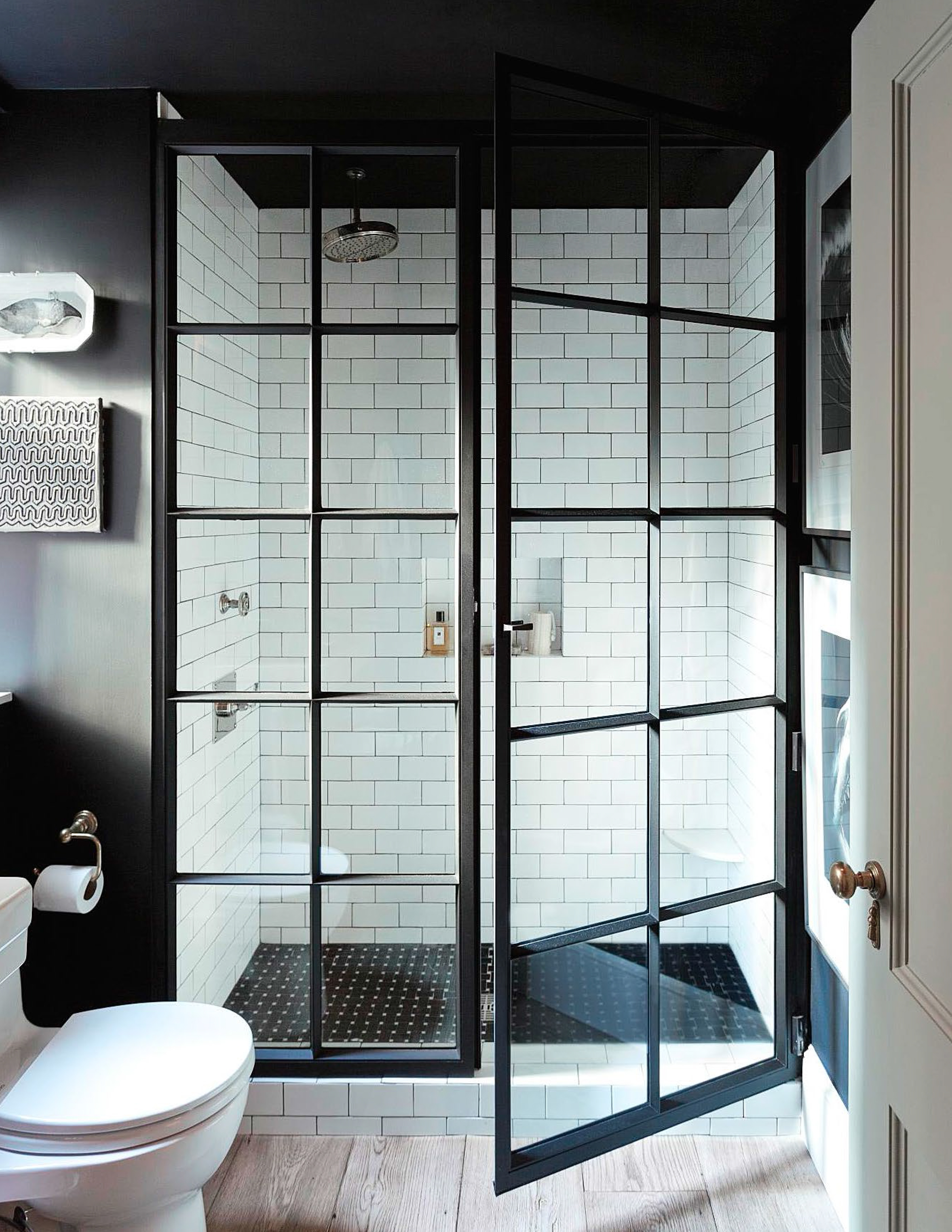 {A small bathroom turned grand with beautiful finishes. The steel shower door simply make this space. Image via.}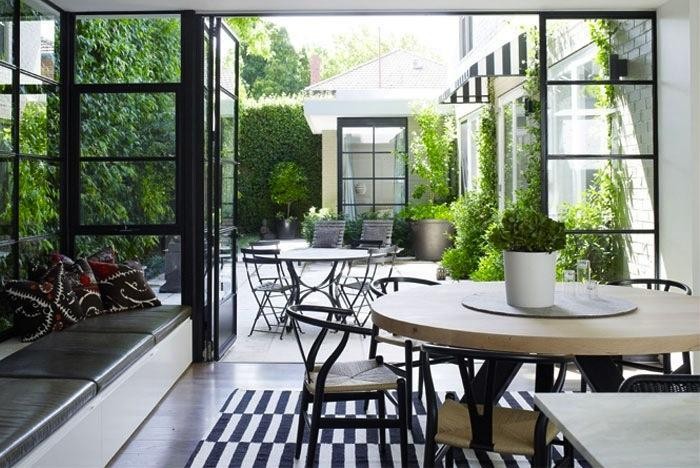 {Indoor/outdoor love!  How chic is this color palette?!  Also loving the French bistro feel with the topiaries and climbing vines. Image via}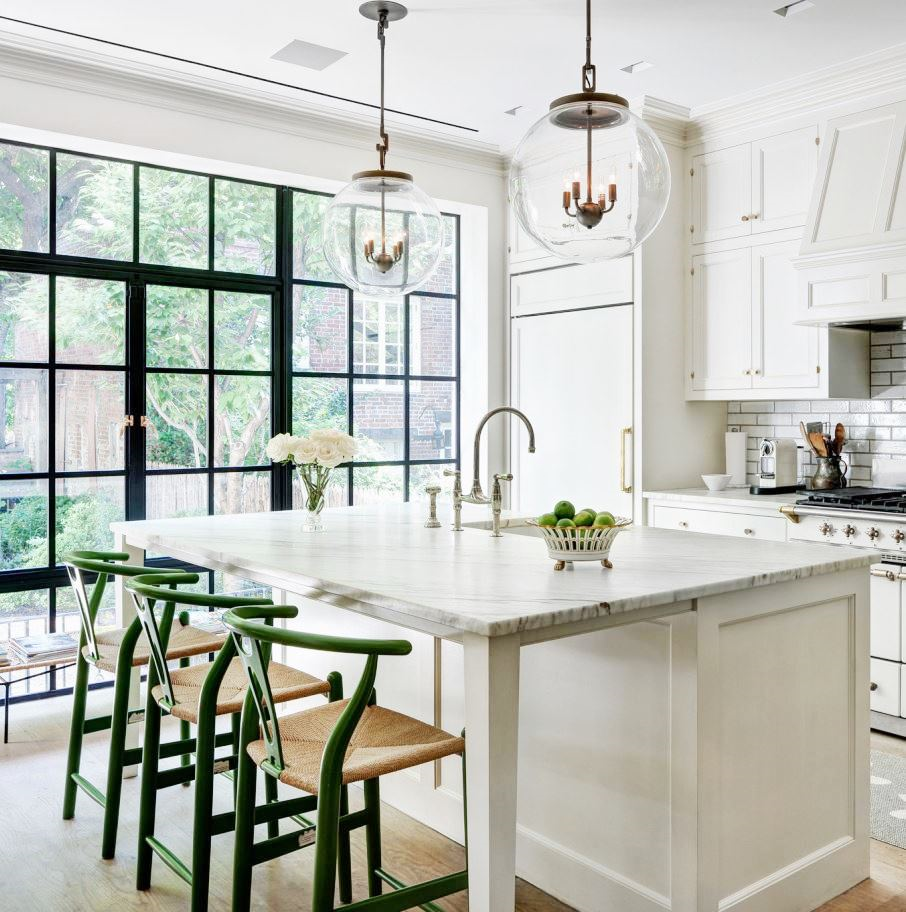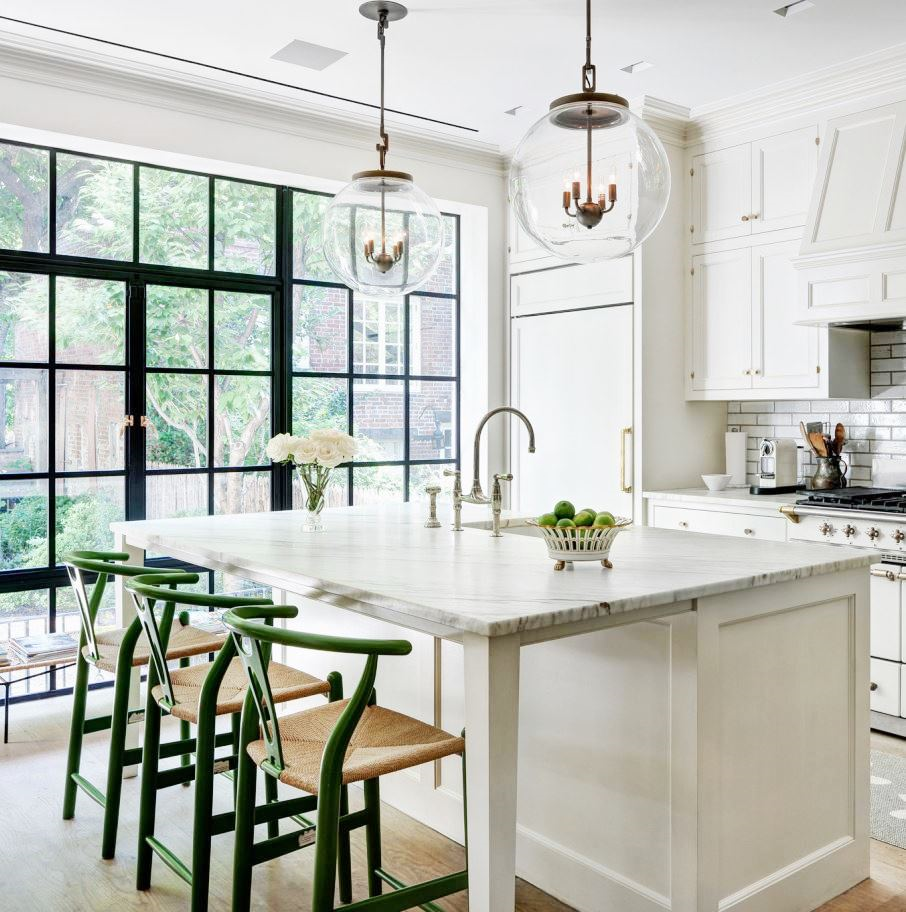 {There are no words for how much I love this kitchen.  Dream space.  Imaga via}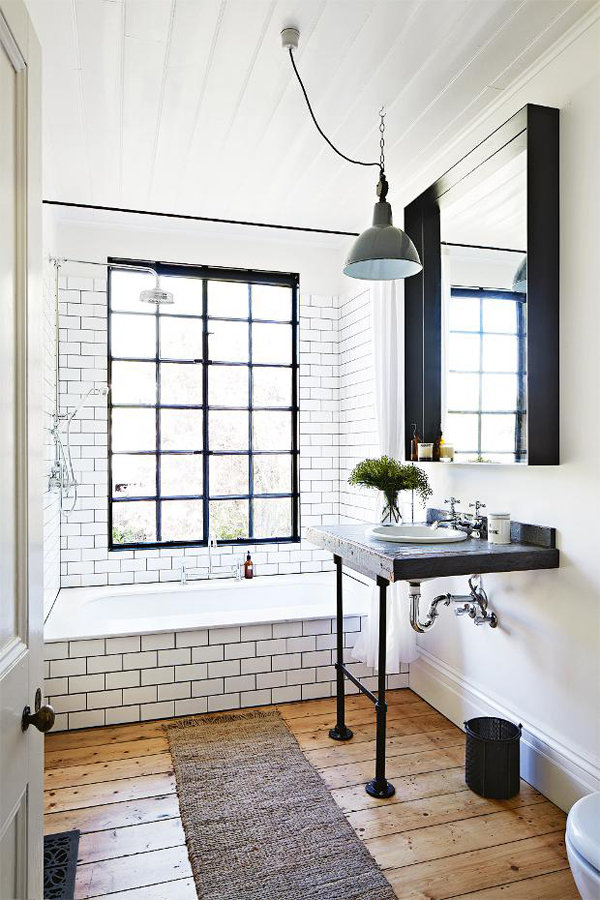 {I used to shake my head at dark grout with white tile, but in certain applications it can really be a game changer and I find myself loving it more and more. Image via}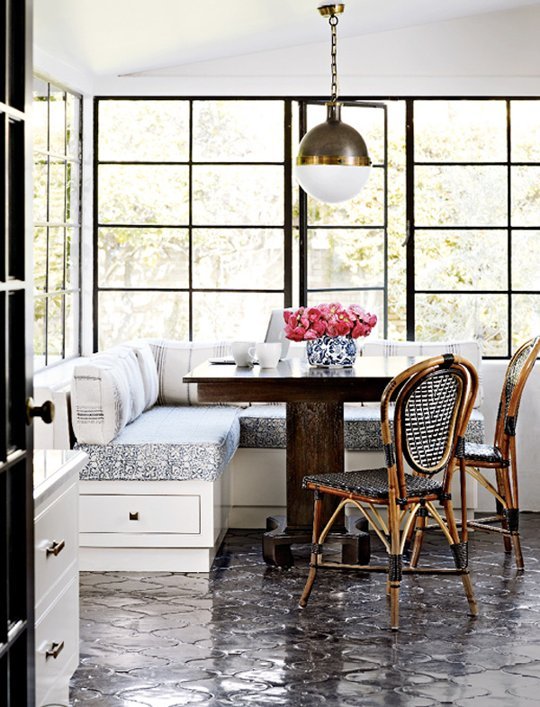 {I love a cozy L shaped banquette and a set of Parisian bistro chairs… This little nook is perfect. Image via}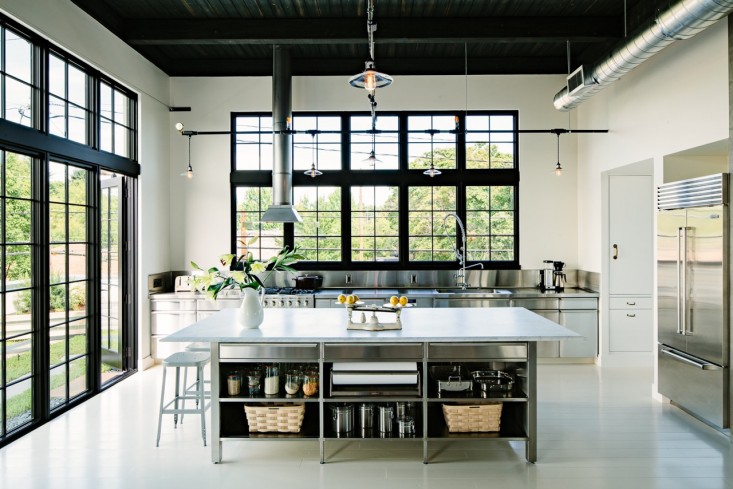 {Industrial kitchen envy! Look at that daylight! Image via}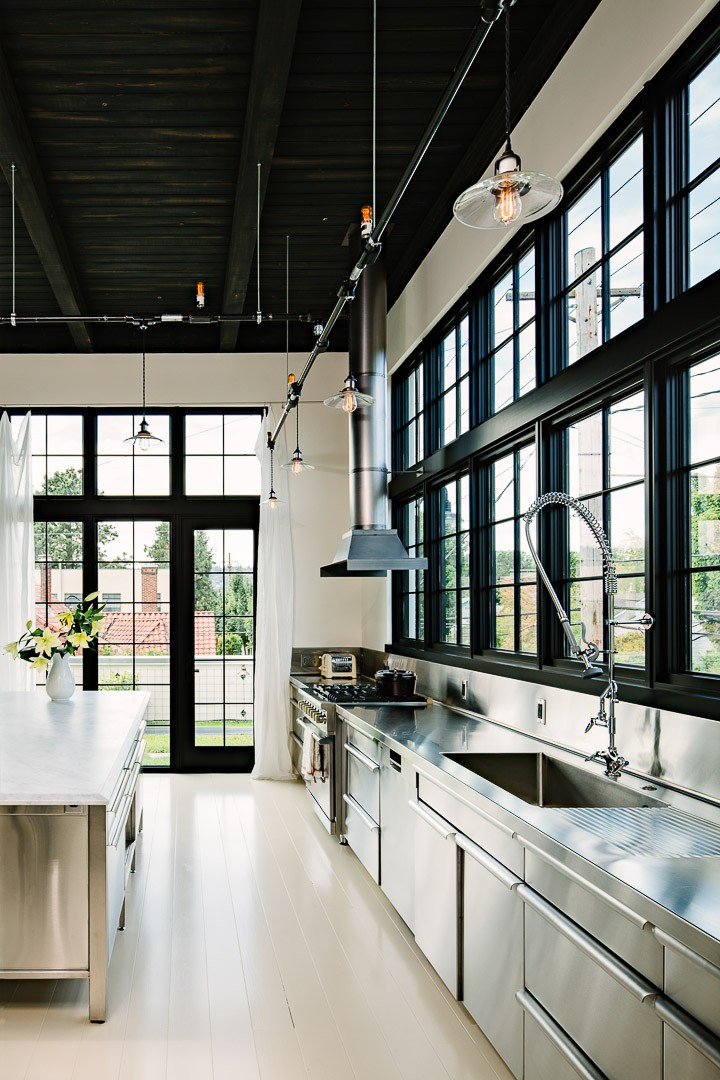 {Same kitchen, different view 😉  via }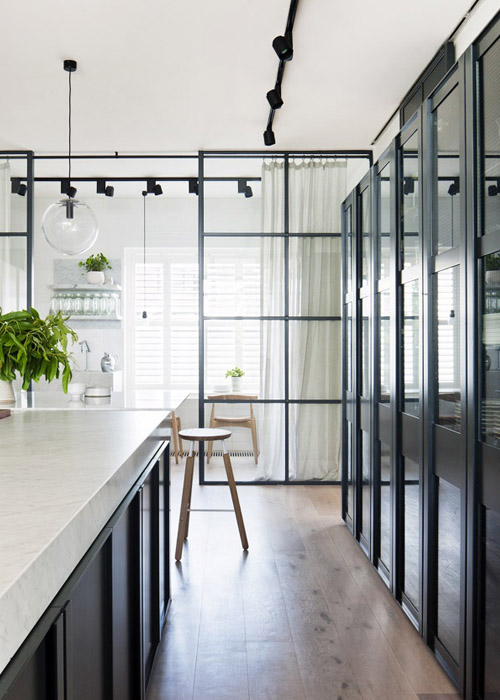 {Closed off kitchens are a thing of the past, but I know that the prep mess, noise and ventilation concerns are definitely warranted from people hesitant about an overly open floor plan.  I love that this space has that open flow, but that the prep can be concealed with these sliding glass and steel doors. Image via}