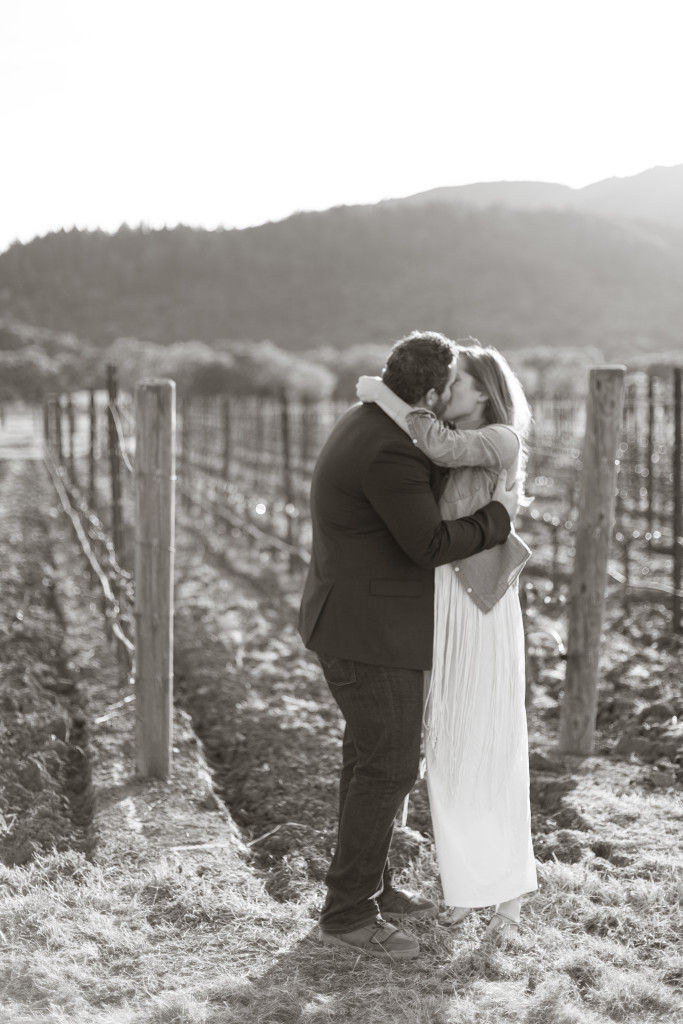 On March 21st, Jake asked me to spend forever with him and I've been in pure engagement bliss ever since. I wanted to document absolutely everything so that I never forget, so here we go 🙂
On Christmas morning, Jake and I exchanged gifts at my parent's house as we were visiting for Christmas. A few weeks before, he had asked what I wanted for Christmas and I stated that I really wanted to go to Italy so if he decided not to get me anything for Christmas so that we could put that money toward taking a trip to Europe, I would be thrilled. I vowed to spend lightly on his Christmas gifts so that I too could save for the trip of a lifetime. On Christmas Eve Jake confessed tricked me that he simply could't figure out an affordable option for us in Italy and that he'd decided we'd go back to Hawaii later in 2015 (which was my second choice of travel). I was a little disappointed that we wouldn't be going to Europe, but was at the same time thrilled that we'd be heading back to Hawaii (we had such an amazing time there in 2014) and I figured we'd save Italy for a later date when the timing and financials made more sense. On Christmas morning as we were exchanging gifts, Jake pulled out his computer and presented me with a powerpoint that detailed our trip to…….ITALY! I was in such shock that I embarrassingly sobbed for a few minutes an in disbelief that he had taken the time to figure out our work schedules, research accommodations and book flights to all of the places I've dreamed of visiting for as long as I can remember.
Fast forward to January…
January-March were crazy chaotic putting together our Summer catalog which was the first ever that we were to introduce. In between sourcing, a team retreat, making over a house, product testing and more sourcing, we were also planning a recruiting event for our viaONEHOPE community in Napa. ONEHOPE purchased a property in Napa in September 2014 (more on that later) and we knew we wanted to host an event at the vineyard before construction on what will be our biggest project to date. I was part of the team putting on the event and headed up to Napa on the 19th to get ready for the weekend. My mom (also a part of our viaONEHOPE community) had asked if I needed her there for help. When she mentioned that my dad was taking a business trip to Mexico and that she needed a trip outside of crummy, cold, wintery, Michigan, I agreed that it would be great for her to come. I picked her up in March 19th from the airport and headed to Napa to get ready for the event.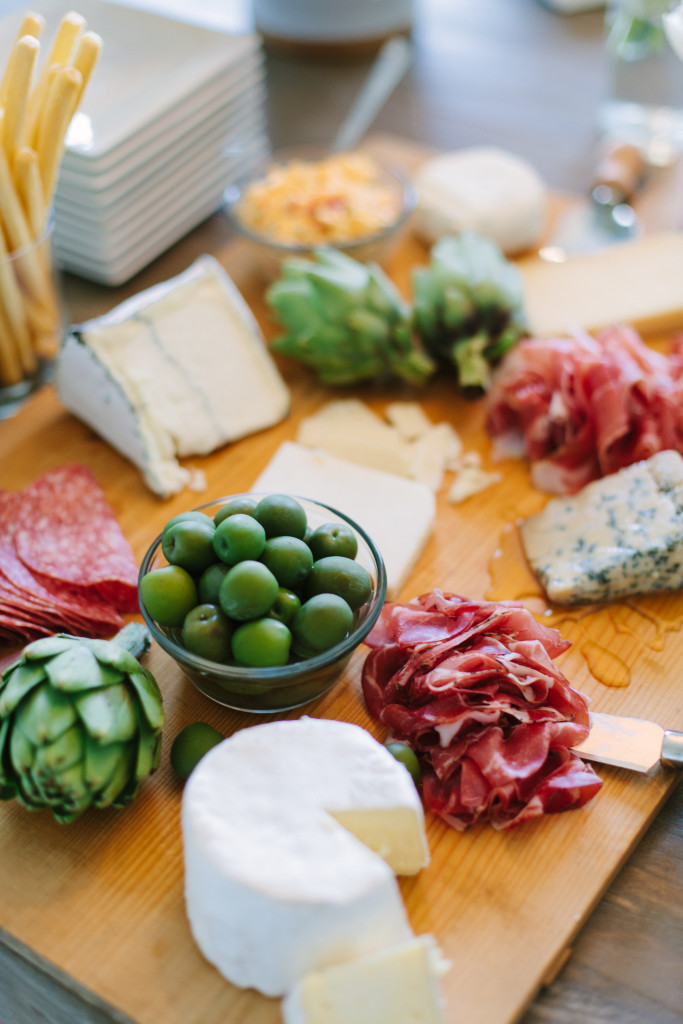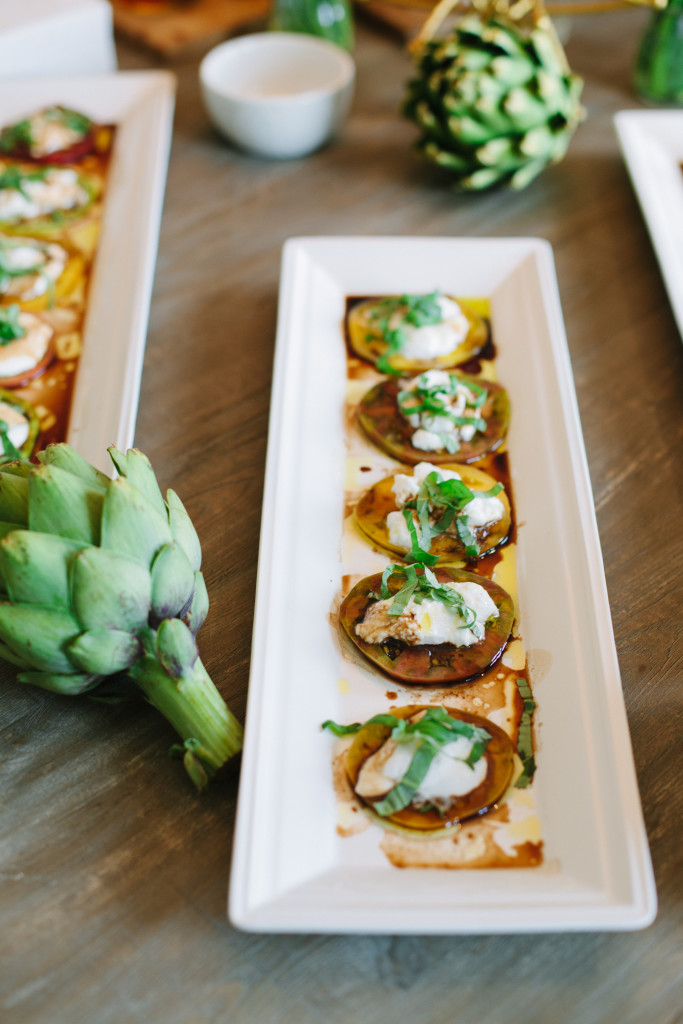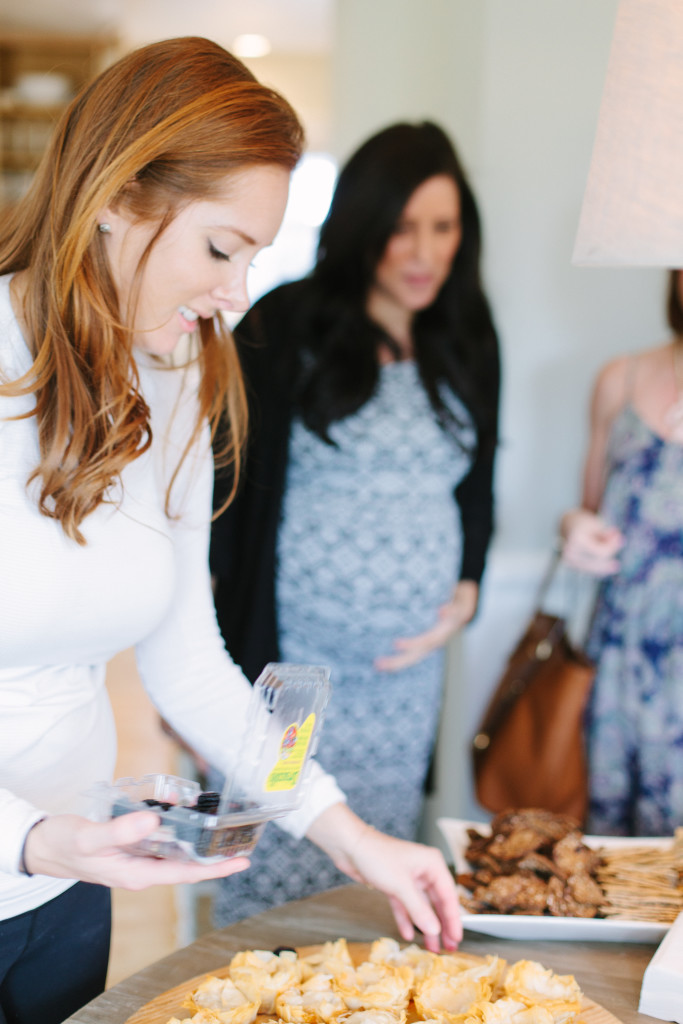 Honestly, the events of the 21st were kind of a blur, but this is what I do recall… We shopped in the morning for meats/cheeses and last minute necessities for the event and headed to the property. A few of the girls from our team as well as Jake's mom and older sister joined us later in the morning and helped prep some of the food while others dusted, swept and got the house ready. I'd asked my best friend Carla to come to the event since she's in the Bay Area and I was hoping to see her and was thrilled when she made the trek to Napa. A few of Jake's girlfriends were there visiting as well and joined us before the event. I remember my mom telling me several times that I needed to get ready and that she could handle the rest of the food prep. I've done countless shoots and events for ONEHOPE and know how stressful that last hour can be so I was reluctant to take her advice, but finally took a few moments to myself to curl my hair, fix my makeup and put on a dress. I knew the dress I was putting on was Jake's favorite, but didn't know about his plans for that day.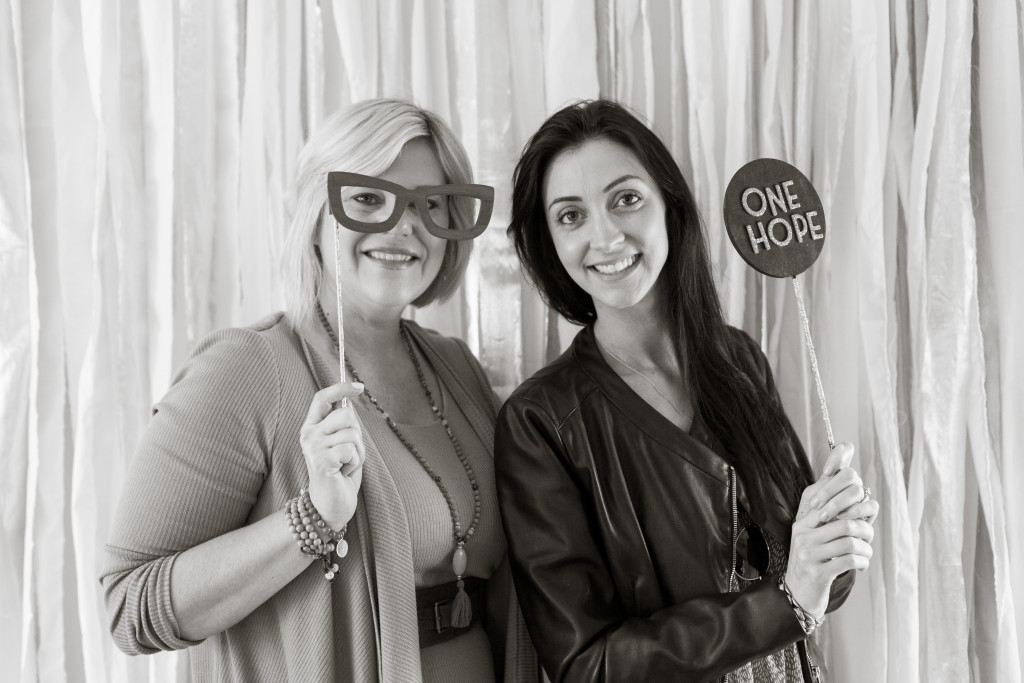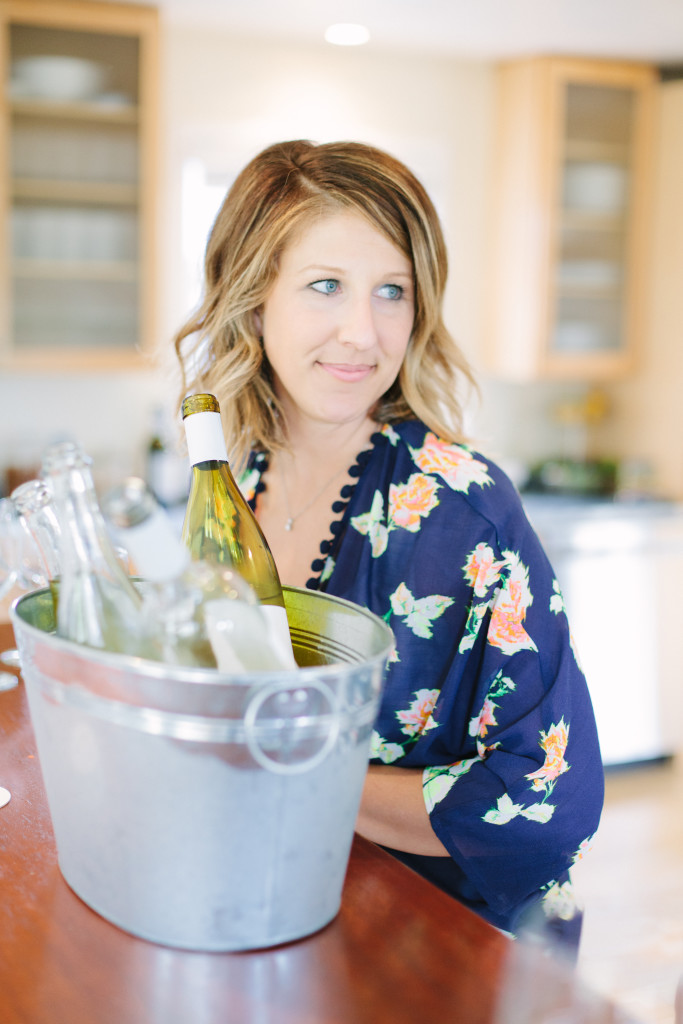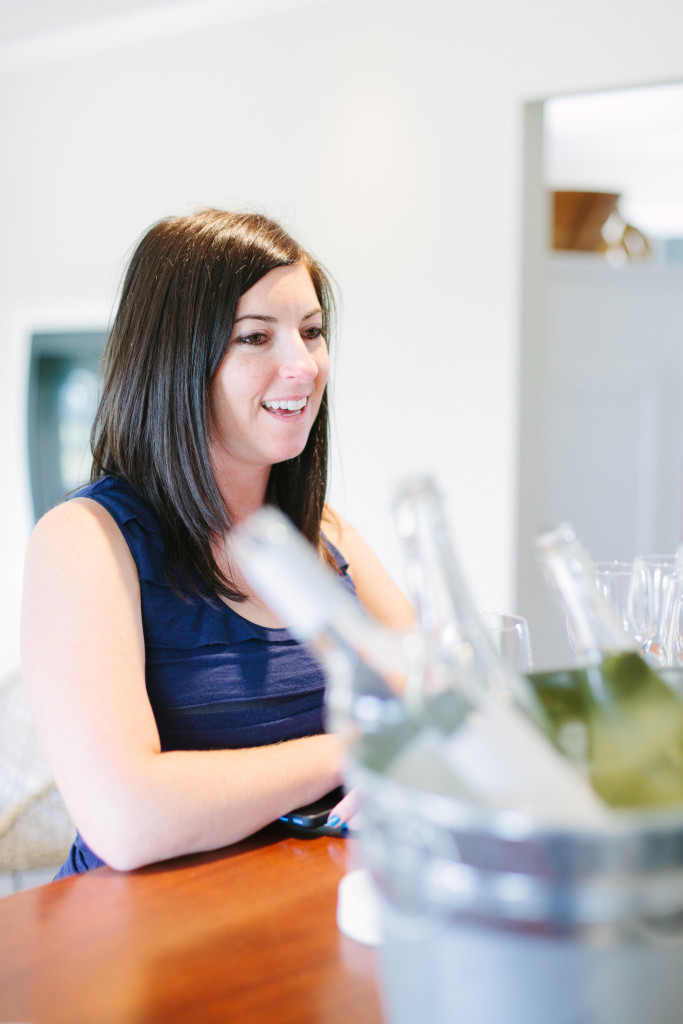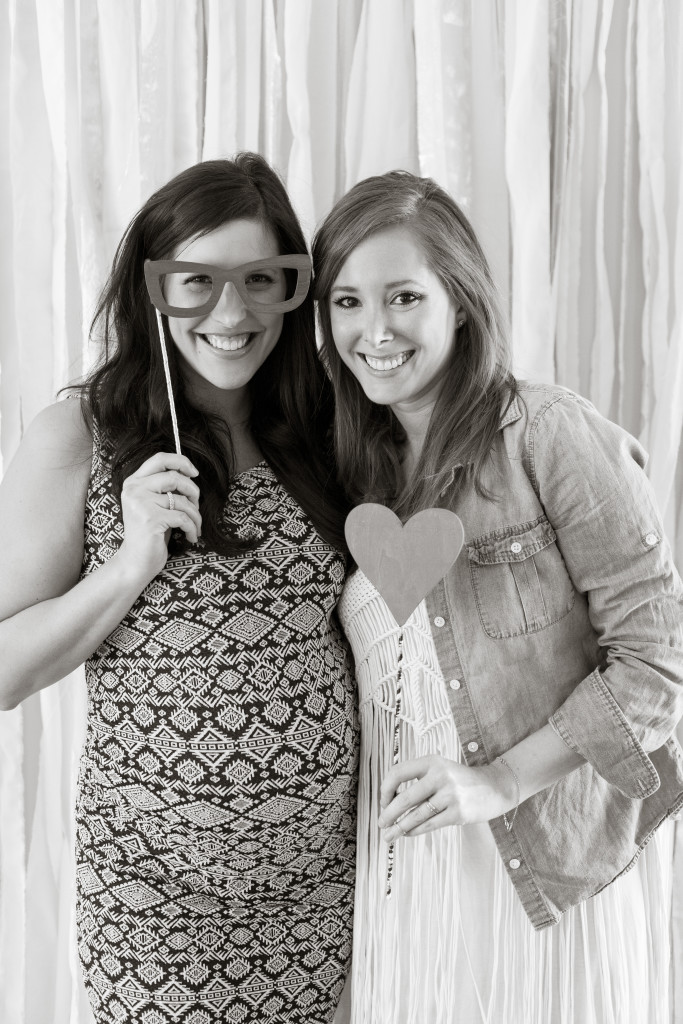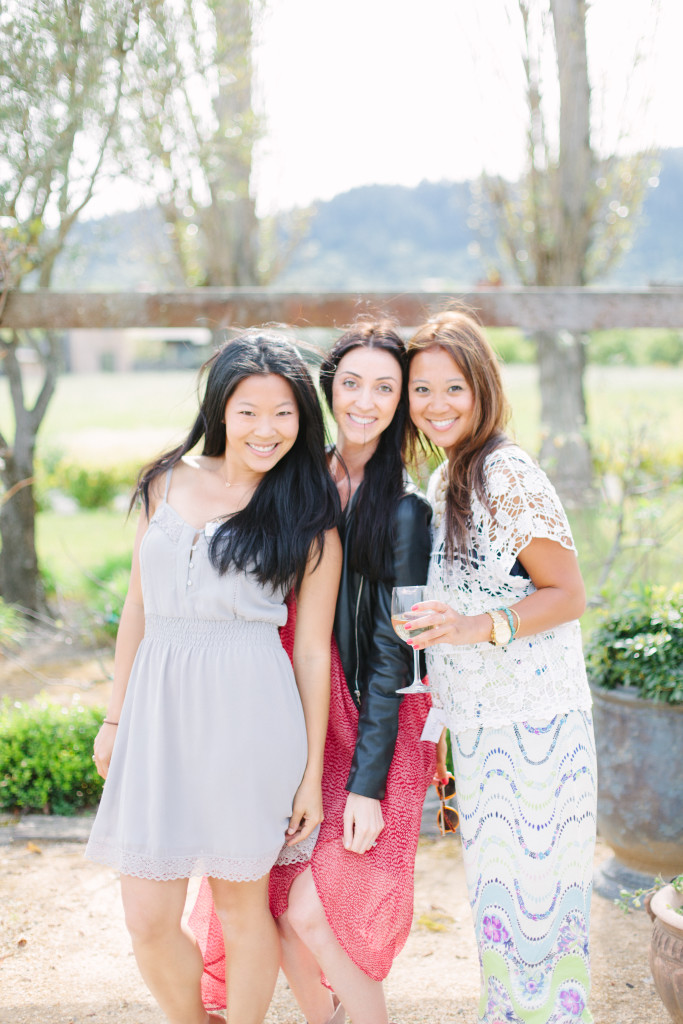 I was standing in the bathroom curling my hair when Tiffany, from our team came in to check on me and we chatted about her adorable baby belly, anticipating being a mommy of two, the flow of events for that day, and that she wanted to film a quick video with Jake.  She wanted the video to be out in the vines to welcome our new viaONEHOPE recruits to the team which seemed totally normal to me and I loved the idea.  I agreed to help her with the video, finished up and went outside to meet guests. Jake flew in from a business trip during the event and I remember giving him a hug and a kiss as he walked in the door and he said "you look so pretty – that's my favorite dress." ((Insert heart explosion)). We dove into the day – meeting and mingling with as many people as possible and I took a minute to chat with my best friend before the formal presentation and wine tasting were to begin. After a minute or two of talking, she said "I think I'm going to cry" and started to walk away. When I followed her and asked what was wrong, she said "I'm so sad that you guys are tearing this place down," and continued to walk away.  At the time, Carla and her husband Clay were starting to house hunt and I assumed she was just emotional about the process. The house on our vineyard is going to be taken down in preparation for another big project and while the current home is charming, it has a TON of issues so I thought it was a little odd of Carla to get emotional about something that seemed so silly, but assumed it might have to do something with their house hunting and wondered if maybe she was just having an off day. I had no idea that one of Jake's friends had just told her he was planning on proposing that afternoon.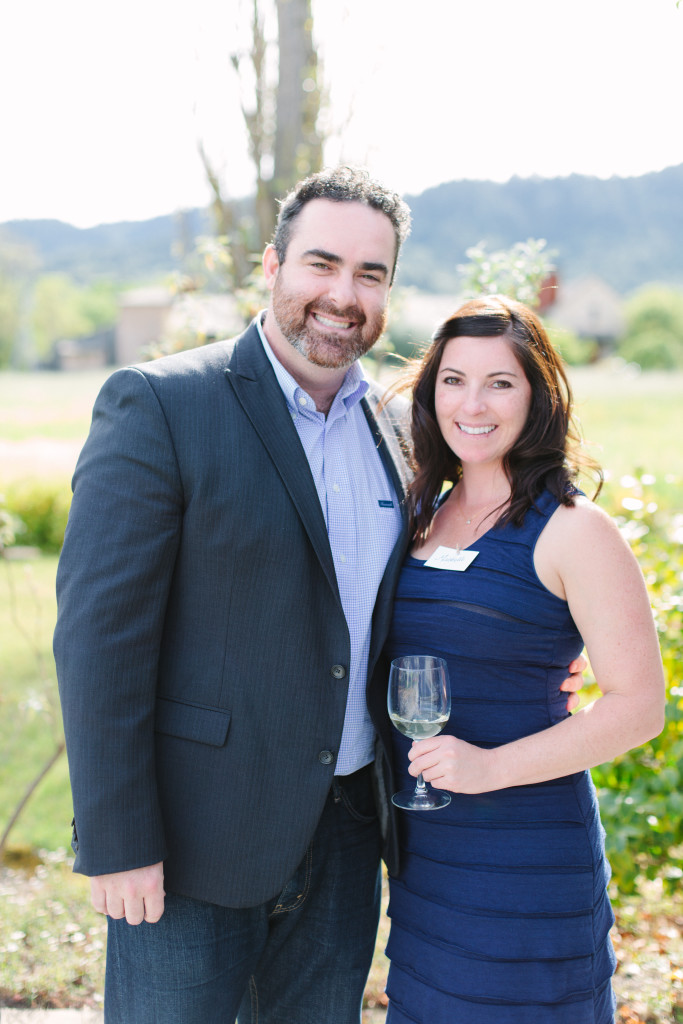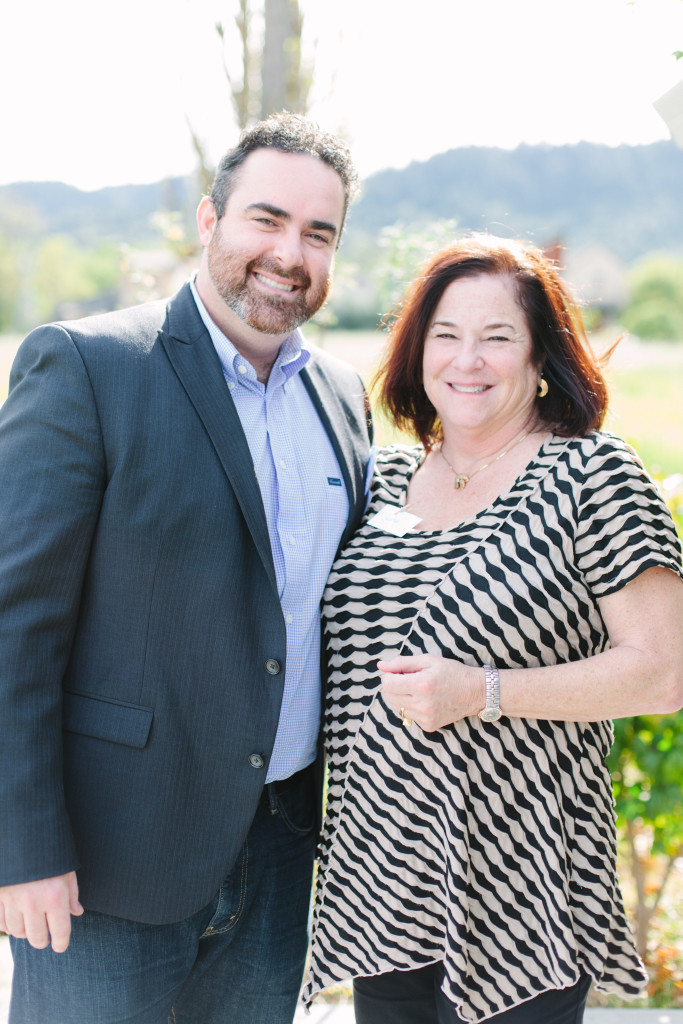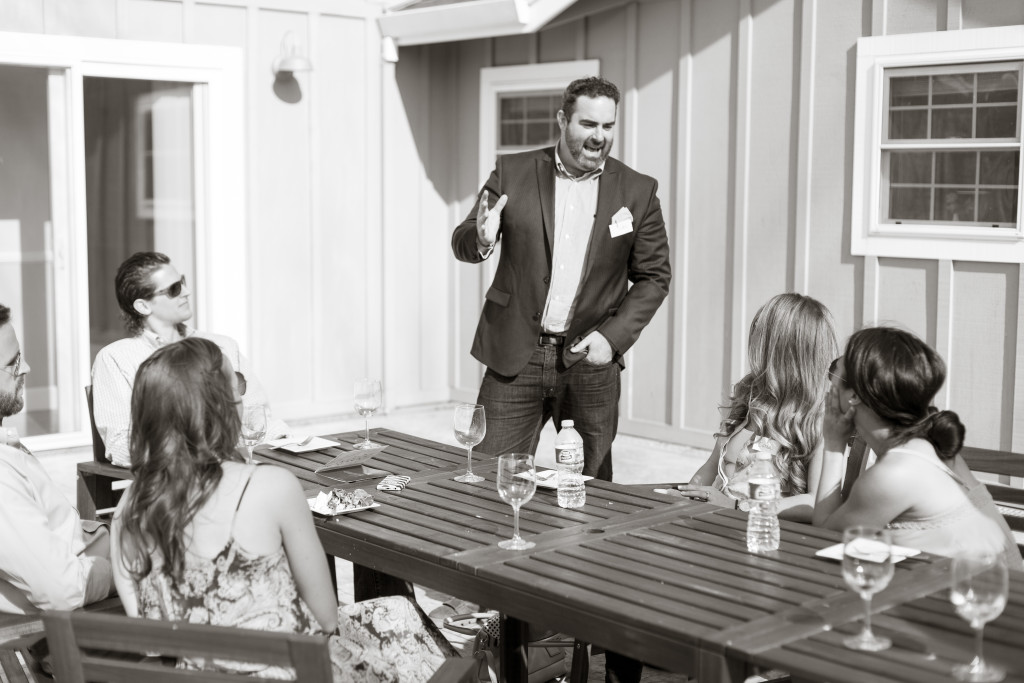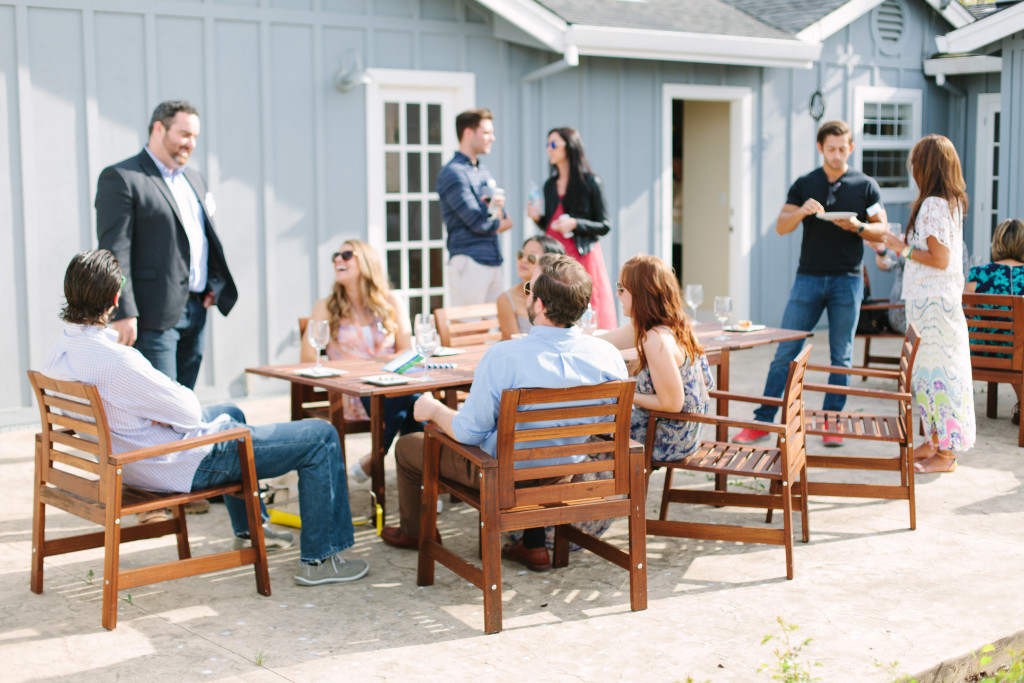 About halfway through the event, Tiffany grabbed me to gather a few items to take out to the vines to film our video. We found a bottle of Sparkling, an ice bucket and some flutes to "toast to the viaONEHOPE community." The three of us (plus our photographer) walked out to the vineyard together, stopped in the clearing that will eventually be home to our winery and Tiffany started filming on her phone. I was standing next to her when she mentioned that Jake still had his name tag on and that I should run over and grab it from his lapel. I walked over to Jake, took his name tag and as I turned around to walk away he grabbed my hand. I just remember him saying, "no, actually, I'm proposing right now" before he got down on one knee. As everyone who has ever been surprised with an engagement knows, the next few moments were completely a blur. He was so nervous and he's never nervous. I just remember him mentioning that he wanted to spend forever with me, that he couldn't wait to build a family and a life together and that he wanted my "big brown eyes" to be the last thing he saw as he took his last breath.  I was in complete shock, yet so touched and so ecstatic that the best man I've ever met was asking me (ME!!!!) to be his bride. He pulled out the ring of my dreams and I said "YES!" in between sobs. I also remember saying, "are you serious? Is this really happening?!" at least a half dozen times before our families ran out to the clearing to give us hugs and congratulations.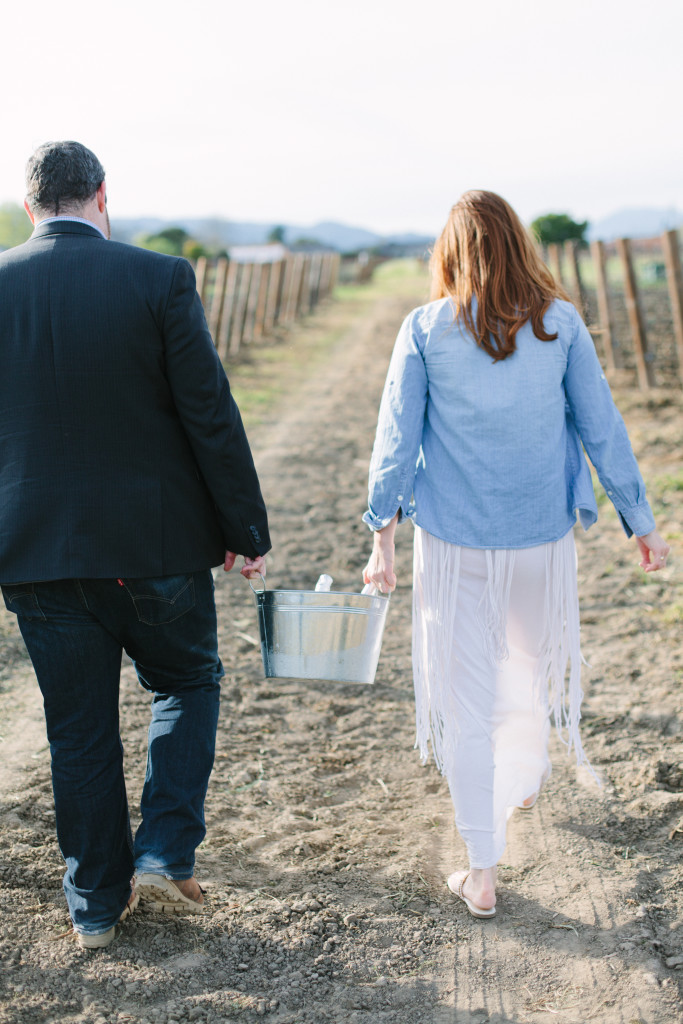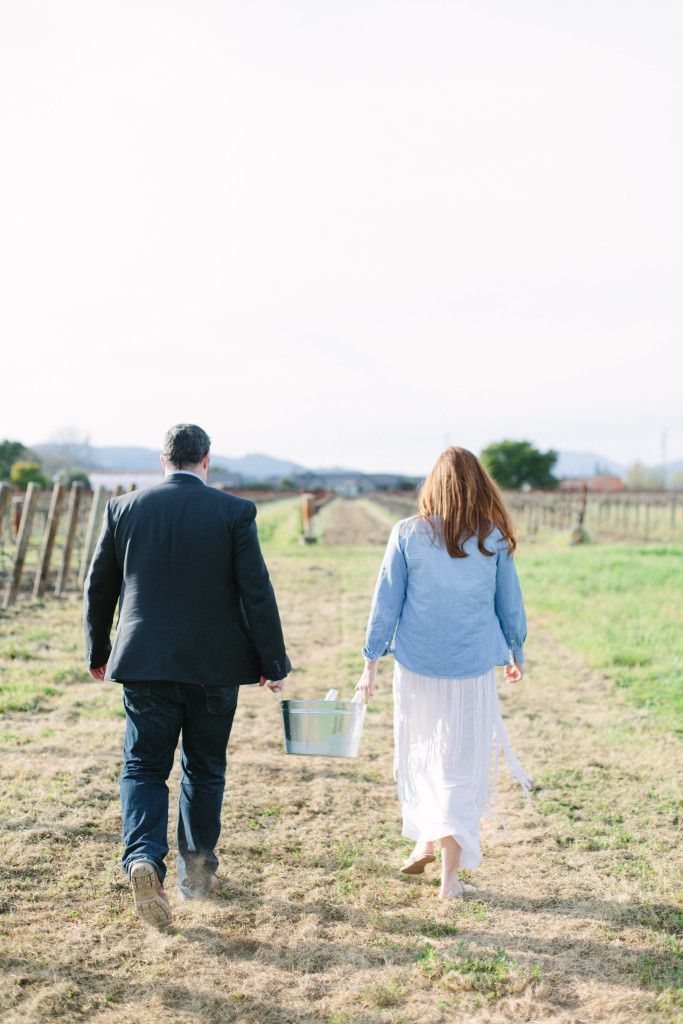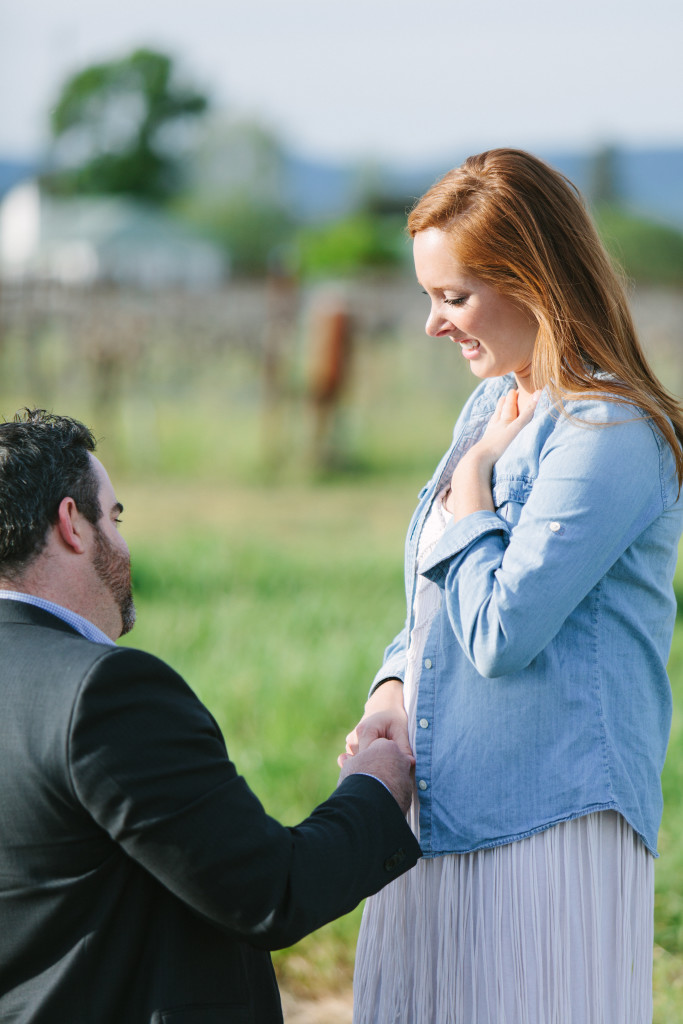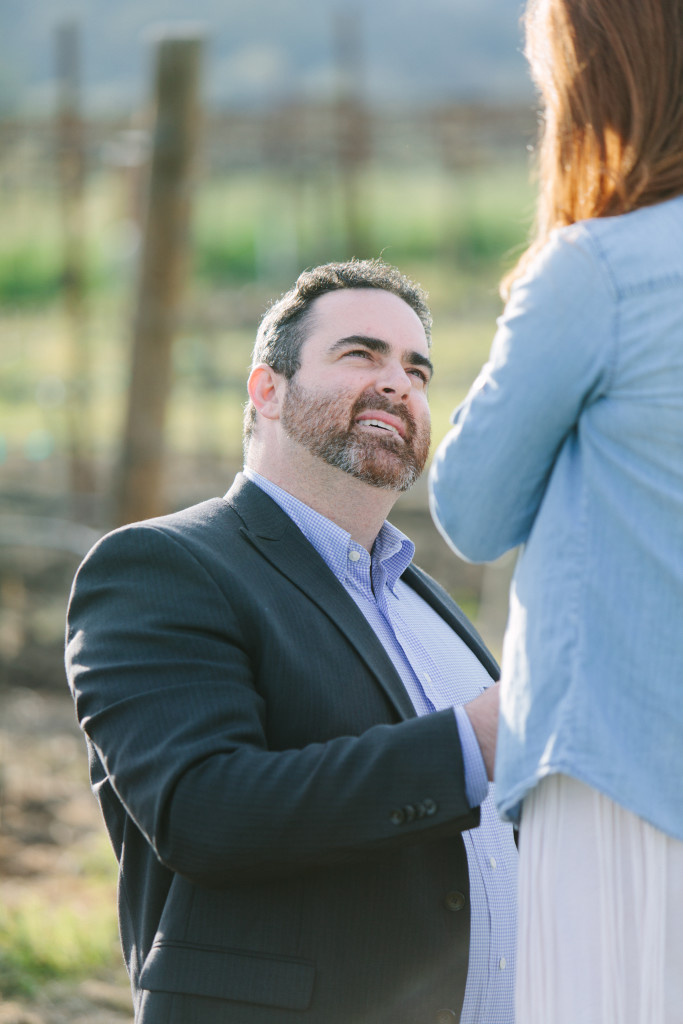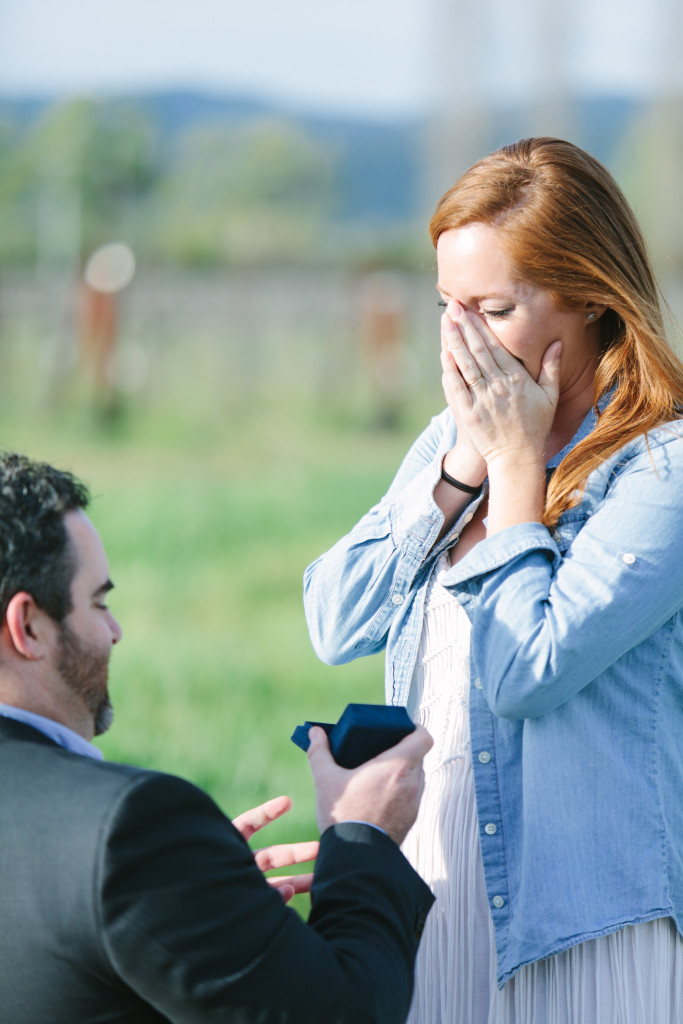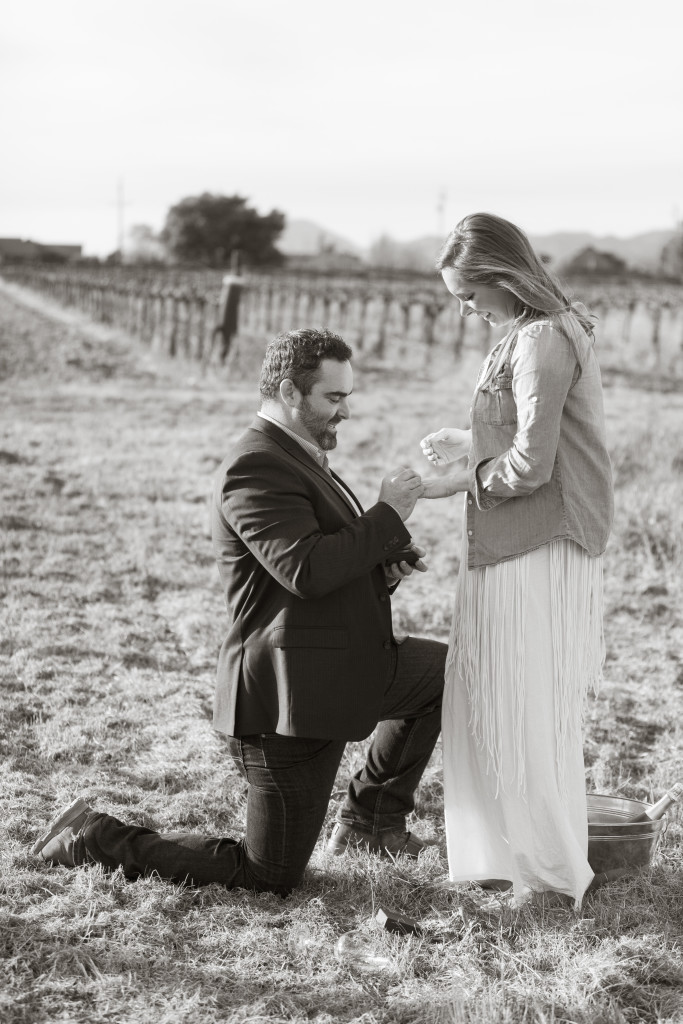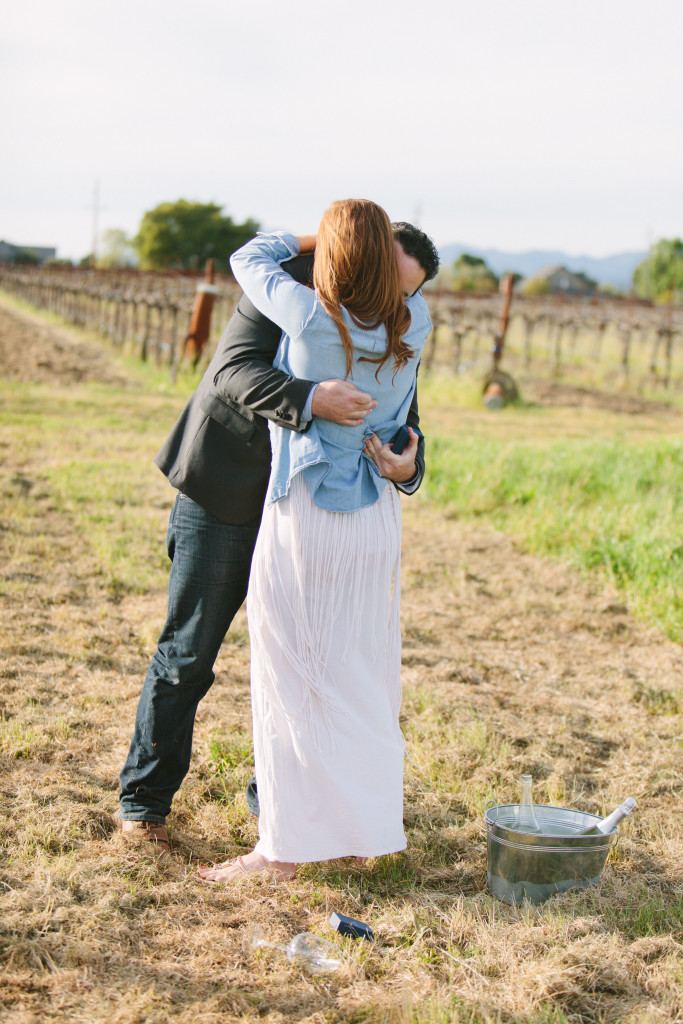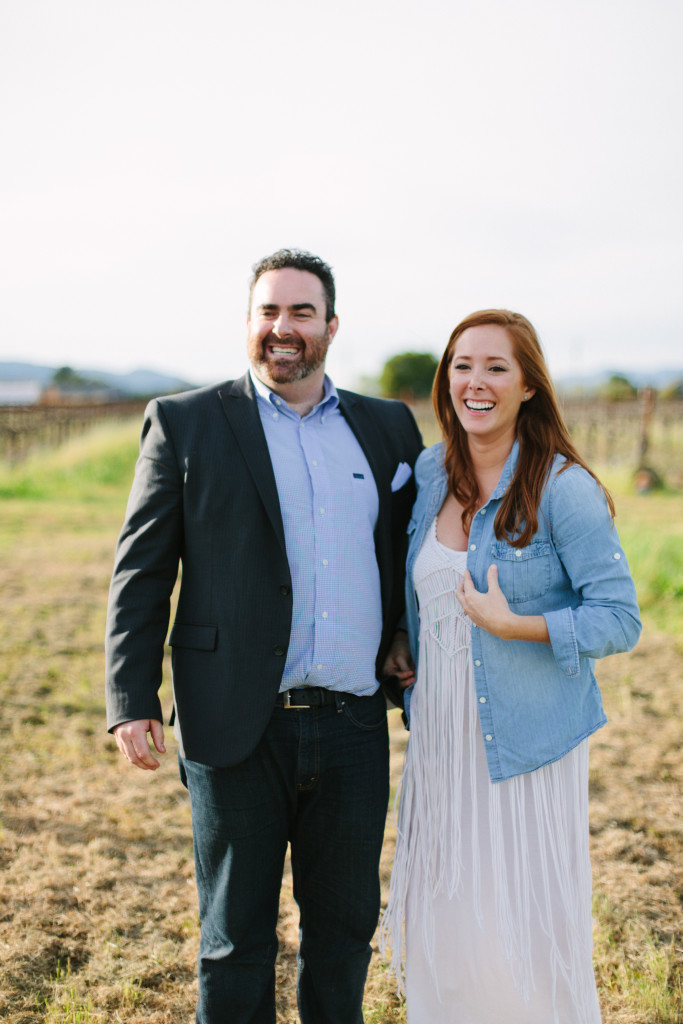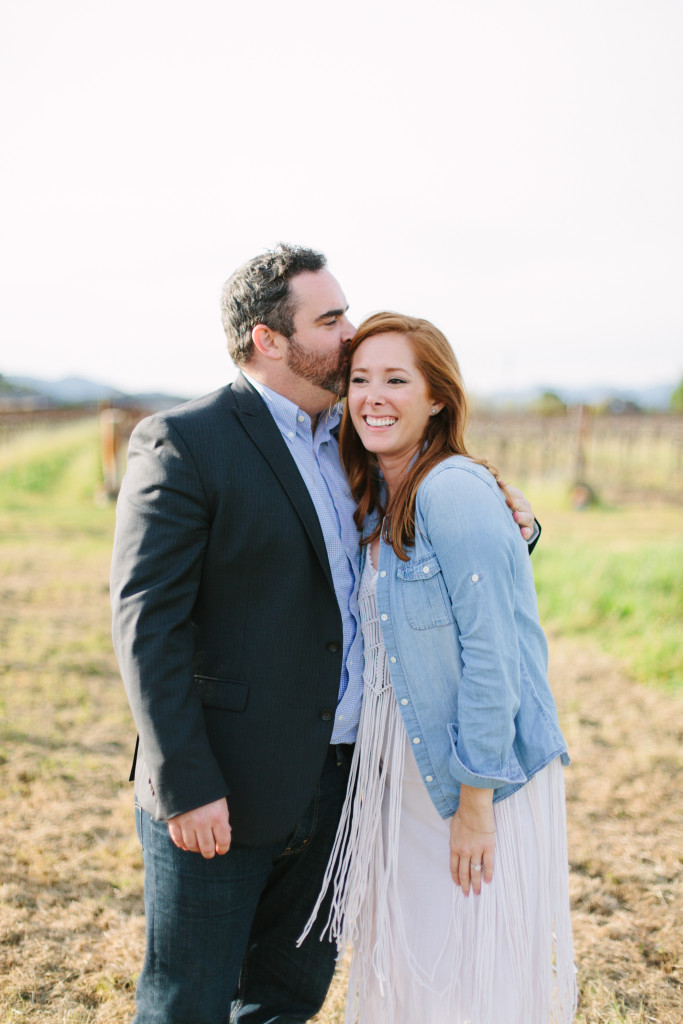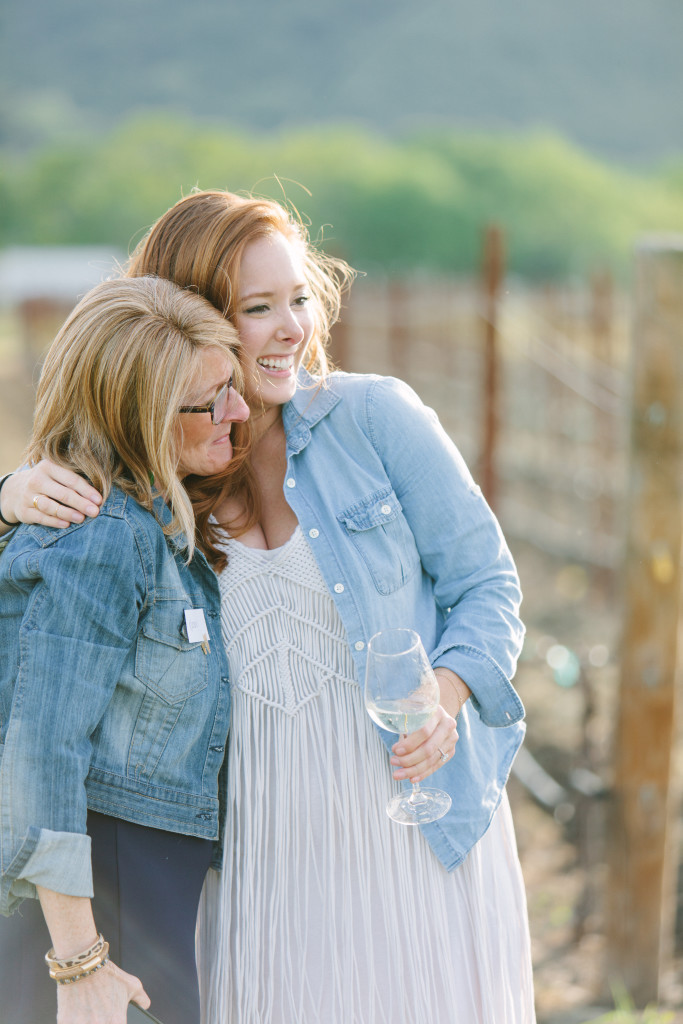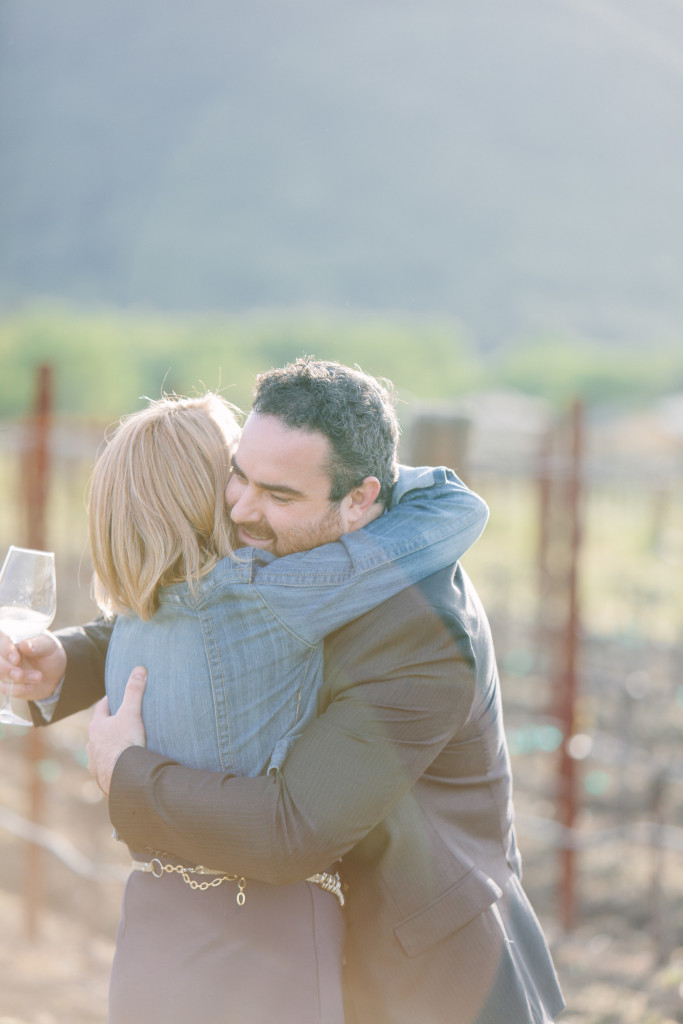 I always thought that a low-key engagement while on a vacation or even while at home with just the two of us would be the way I'd want to get engaged. But there is something so special about having your closest friends and family there to celebrate immediately after that is irreplaceable. Having Jake's sister, his parents, my mom and best friend there along with many of our friends from over the years was so incredible. I'll never forget watching my mom and his sister Michelle run through the vines to congratulate us, a warm embrace from Jake's parents, hugging Carla on our walk back to the house and my mom handing me the phone to talk to my dad for the first time.  Complete and utter joy….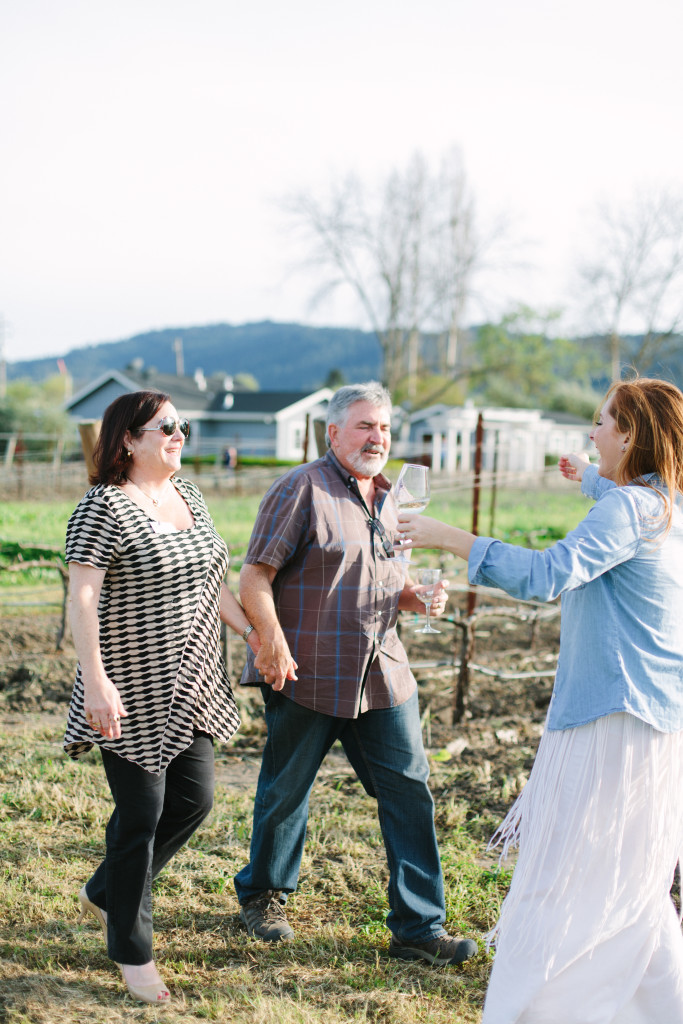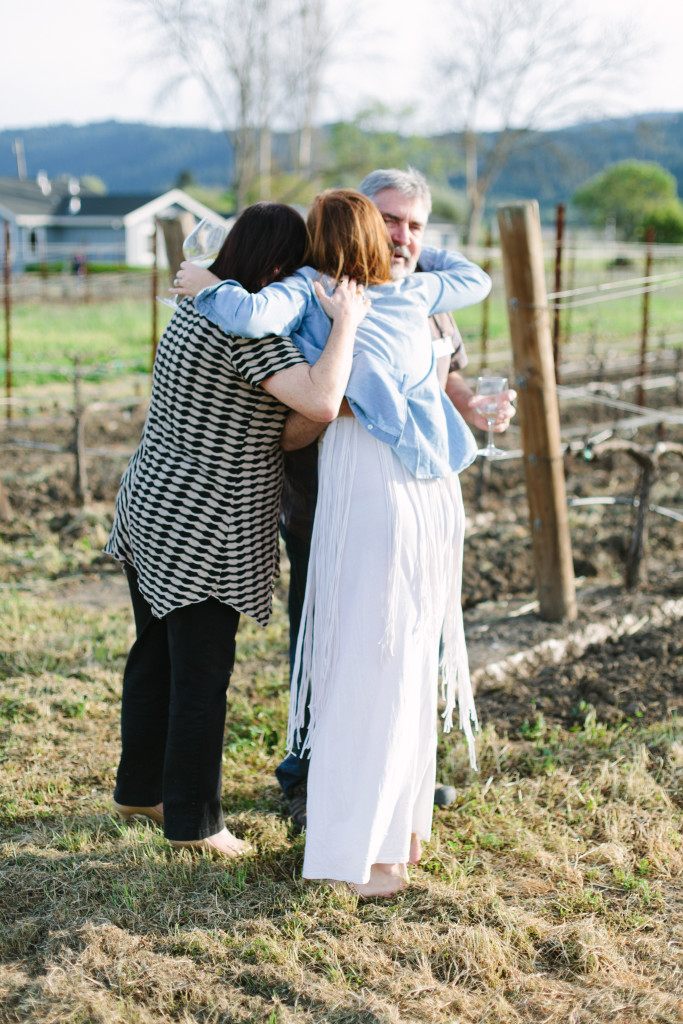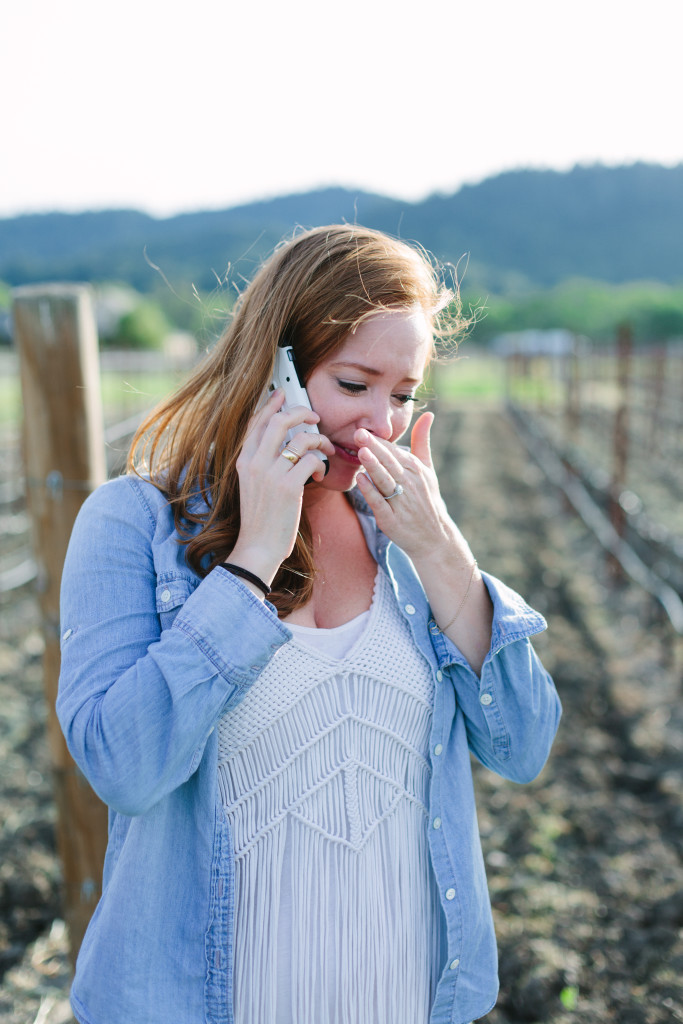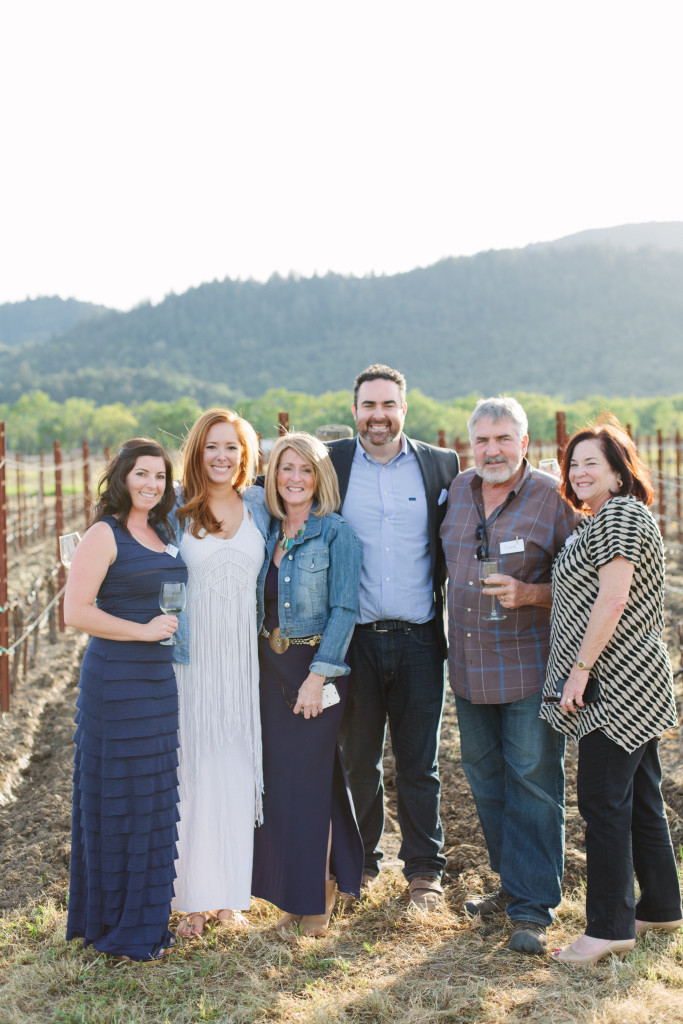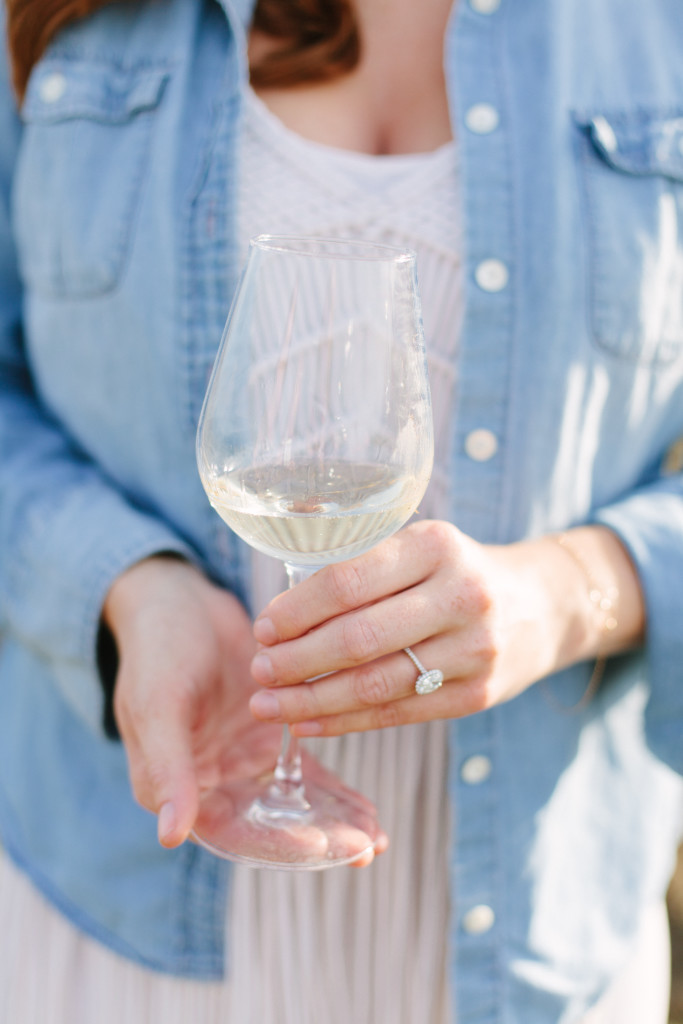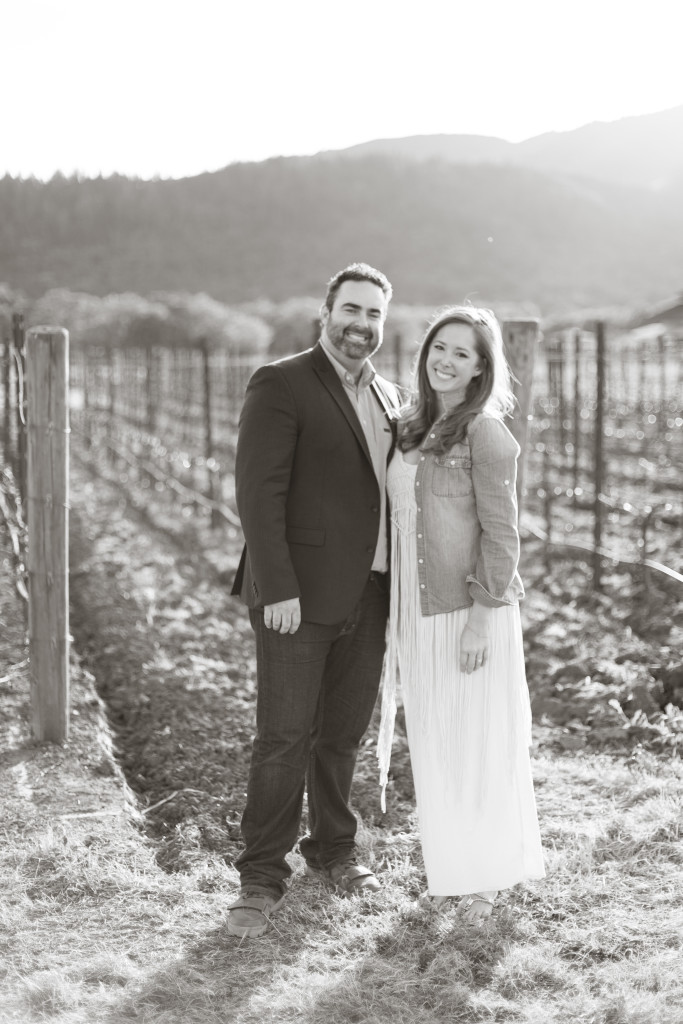 The following week, we jetted off to Italy for the trip of a lifetime. Our little engagement-moon was absolutely perfect in every way.
As blurry as it is, I will never, ever forget that day. I am so thankful that he chose me and that we get to build this crazy, wild life together. <3
HUGE thanks to everyone who made our day so special… all of the friends, family and colleagues. Lastly, thank you so much to Megan Clouse who captured every single moment. We'll treasure these images forever.