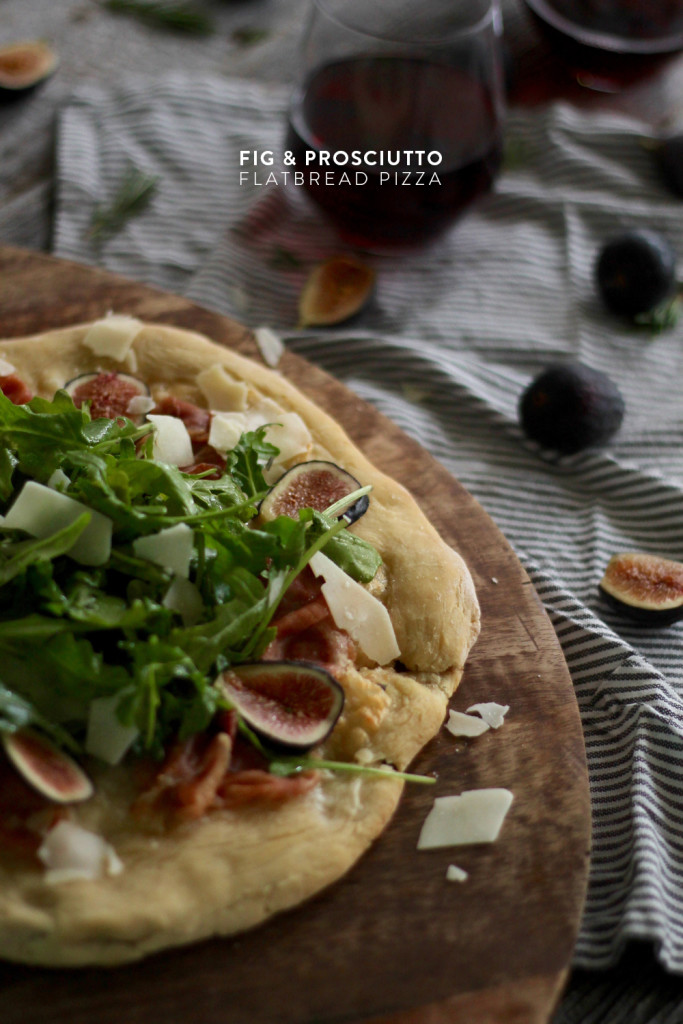 Last week when I was experimenting with fall figs, I whipped up a yummy Fig & Rosemary Sparkling Cocktail that ended up being a team favorite.  We had a pound of figs left over and some prosciutto so I fired up the oven to create a crispy flatbread.  I was so surprised at how incredible this was!  I'd never rolled our my own dough so this was the first pizza from "scratch" that I'd made, (although the fresh dough was still store-bought – can't take all of the credit!) so I had no idea what to expect.  I was ecstatic at how perfect the crust was and the combination of salty and savory prosciutto, creaminess of the mozzarella, sweetness of the figs and slightly sharp parmesan made this a crowd pleaser.  This paired perfectly with a glass of Edna Valley Pinot Noir… with just the right amount dark cherry on the nose, concentrated fruit, a touch of nutmeg and fall spice on the palate, the Pinot really complimented the sweet and savory flavor profile of the pizza.  I'll definitely be making this again!  So easy and so worth the TINY bit of extra effort to get that perfect crust.  Cheers!
Time: 45 minutes
Yield: One 16″ round flatbread pizza
I N G R E D I E N T S
2 tbs. flour
16 oz. pizza dough (we used Trader Joe's pre-made classic dough)
2 tbs. extra virgin olive oil
4 oz. prosciutto
8 oz. fresh mozzarella (sliced)
5-6 figs (thinly sliced)
1.5 cups arugula
1/4 cup parmesan cheese (shaved)
1/2 tsp. sea salt
D I R E C T I O N S
Preheat oven to 350 degrees.  If you're using a pizza stone, make sure your stone is in the oven during the preheating process (dramatic shifts in temperatures can cause a pizza stone to shatter if the stone isn't warm before placing it in your oven).
If your dough is refrigerated, allow it to come to room temperature before working with it.  Flour your work surface and gently kneed, stretch and roll dough to desired shape and size.  Ours was ~16″ in diameter.
Brush a little olive oil on the dough and top with prosciutto and mozzarella. Transfer dough to your pizza stone and bake for 15 minutes (or until crust has started to crisp).
While the pizza is in the oven, carefully top the pizza with figs and bake for 3 more minutes.  You want to give the figs time to warm up and heat throughout without over cooking them.
While the figs are warming, place arugula in a bowl and toss with olive oil and sea salt.
Remove pizza from oven and transfer to a cutting board.  Allow pizza to sit for 1-2 minutes before slicing.  Top with arugula and shaved parmesan.  Serve with a glass of ONEHOPE Pinot Noir for the perfect pairing.  Cheers!